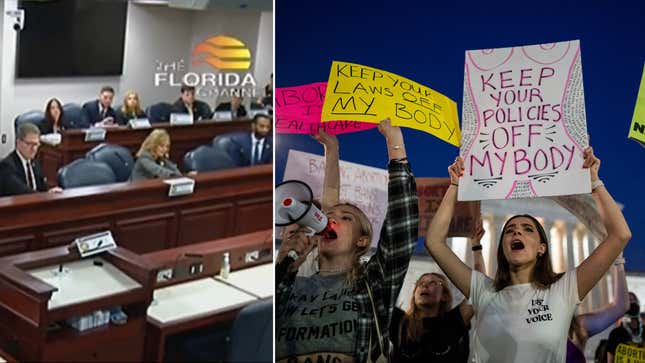 Florida state House Republicans advanced a bill to ban abortion at six weeks on Thursday, but not before survivors and advocates offered an hour of especially impassioned, heartbreaking testimony against the bill (HB7) at its first public hearing. HB7 offers only narrow exceptions for threats to the life of the pregnant person, severe fetal conditions, incest, or rape—that is, if a person can prove they've been raped.
Uterus Weekly: 15-Week Abortion Bans
An abortion seeker would have to provide a "restraining order, police report, medical record, or other court order or documentation" to "verify" that they've been raped and get care. Survivors and advocates have long pointed out that the process of obtaining this documentation is not just difficult but traumatic in and of itself.
"The amount of paperwork a woman has to go through to show that they are raped is re-traumatizing," Rep. Robin Bartleman (D) said during the hearing. "Two out of three victims do not ever even report their rapes."
After Rep. Kelly Skidmore (D) unsuccessfully introduced an amendment that would have loosened the requirements to access the rape exception by allowing a sworn legal statement from the victim to suffice, one Florida resident, Taylor Aguilar, testified about her experience becoming pregnant from rape. As the Tallahassee Democrat reported, Aguilar described a sexual encounter that had initially been consensual—until her partner removed the condom without her consent.
She was 10 weeks pregnant (well past Republicans' proposed six-week cut off) when she learned she was pregnant, but still "got the choice" to have an abortion "because in 2015 we didn't have these restrictions." Aguilar, who left the committee room in tears, explained that she didn't file a police report "because she wanted to get as far away from the situation as possible." It's a common sentiment, and reflects police officers' history of dismissing and mistreating victims who seek help.
Florida resident Riley Moon testified next, HuffPost reporter Alanna Vagianos reported. "The invasive collection of evidence is often referred to as a second rape," Moon told the committee, continuing, "How can you forcibly put someone through a second rape to validate them receiving consenting medical attention? The real question is how dare you?"
Moon's framing isn't hyperbole: Denying abortion services to those seeking care reproduces the violation and trauma of acts of sexual violence. Abortion bans amount to gender-based violence from the state, and requiring victims to get a medical examination to "prove" their rape in exchange for medical care is hardly a softer alternative to filing a police report. Medical verification for sexual assault can be a violating process that many survivors choose not to endure.
Others who spoke against the bill pointed out that few people realize they're pregnant before six weeks, so lawmakers' intention is really to ban all abortions, period. The founder of Women's Voices of Southwest Florida also gave damning testimony, reiterating other progressives' claim that the proposed abortion ban is merely meant to bolster Florida Gov. Ron Desantis' (R) conservative bonafides—and, consequently, "[offer] us up as the sacrificial lamb of DeSantis' 2024 presidential campaign."
In addition to Skidmore's proposed amendment to ease requirements attached to HB7's rape exception, Rep. Anna Eskamani (D) introduced an amendment to eliminate the proposed abortion ban altogether. Rep. Alison Tant (D) introduced a separate amendment to eliminate the requirement that a second physician sign off on abortion services for life-threatening medical emergencies. Both were rejected.
Florida currently has a 15-week abortion ban, without a rape exception. OB-GYNs and abortion providers in the state previously spoke out against the 15-week ban's disparate impact on rape victims seeking care—including, in at least one documented case, an underage incest victim who was forced to travel out-of-state for the procedure because they were past 15 weeks pregnant.
Florida Republicans' proposed six-week ban may have more stated exceptions than the state's currently active 15-week ban, but as advocates and Democratic lawmakers pointed out Thursday, all of those exceptions come with their own problems. As Florida joins other anti-abortion states in proposing new bans with additional exceptions, the bleak reality is that no amount of stipulations or exemptions will ever be enough to make these laws humane. As one reproductive justice activist told Jezebel last year, "Survivors and someone who's seeking abortion care want the same thing—we want control over our bodies, at any time, for any reason."