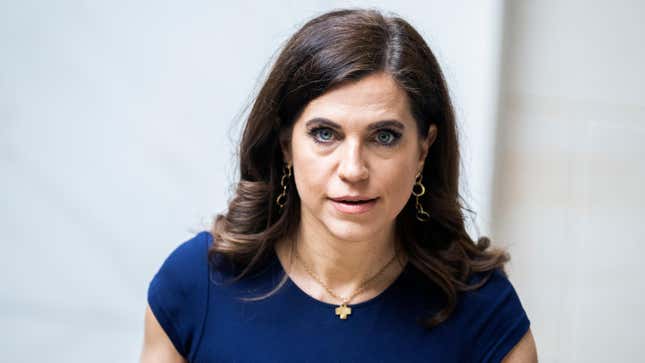 Republicans have been mostly silent since Friday's dueling decisions on the U.S. Food and Drug Administration's approval of the abortion pill mifepristone, even openly trying to change the subject on the matter. But one GOP member of Congress, Rep. Nancy Mace (R-S.C.), went the opposite direction, saying Monday that the FDA should ignore the Texas judge's attempt to ban the drug nationwide.
Republicans Pull Out All the Stupid Stops While Debating Abortion
"This is an FDA-approved drug, whether you agree with its usage or not. That's not your decision, that is the FDA's decision on the efficacy, safety and usage of that particular drug," Mace told CNN This Morning on Monday. "I support the usage of FDA-approved drugs, even if we might disagree."
Later in the interview, host Kaitlan Collins asked outright: Should the FDA ignore Trump-appointed Texas Judge Matthew Kacsmaryk?
"Yes, I would," Mace said. "This is an issue that Republicans have been largely on the wrong side of. We have, over the last nine months, not shown compassion towards women. And this is one of those issues that I've tried to lead on."
Mace, whom Rep. Marjorie Taylor Greene has called "trash" over her support for rape exceptions to abortion bans, appears to be alone in this stance. While her Senate colleagues are tweeting about anything but abortion, Rep. Tony Gonzales (R-TX) went ahead and said Sunday that we should all find something else to talk about besides abortion as he and his party systematically gut our reproductive rights.
"I think it's important that we take care of women and it's important that we have real discussions on women's healthcare and get off the abortion conversation," Gonzalez said. "Women have a whole lot more other issues than just abortion. Let's have those real conversations and let's talk about the other things that are happening in this world."
There is a lot happening in the world, but without bodily autonomy, so many of those problems in the world become secondary. The Turnaway Study from the University of California, San Francisco, found in a 2020 report that people denied abortion saw increase in "household poverty" for at least four years compared to those who could access abortion. In the study, women who were unable to get an abortion were more likely to stay in contact with a physically violent partner. Even before Roe v. Wade was overturned, maternal mortality rates were going up in this country.
In other words, bodily autonomy is the issue at the heart of everything.