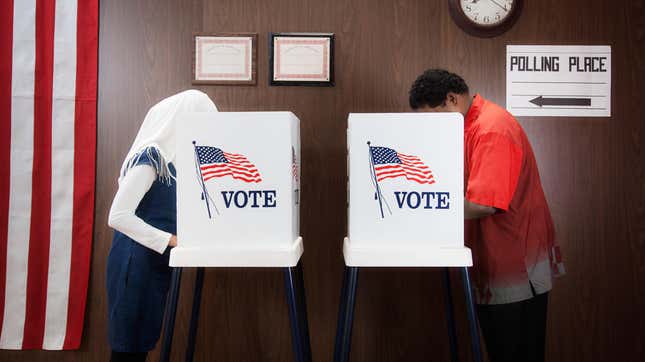 In a ceremony scheduled to start at 10:45 p.m. on Thursday, Florida Gov. Ron DeSantis (R) signed a bill banning abortions after six weeks. He was surrounded by dozens of women in what looks like a photographic attempt to make this policy seem popular. The bill, which will also allocate $25 million to anti-abortion centers and prohibits abortion by telehealth, enjoyed bipartisan opposition.
Republicans Pull Out All the Stupid Stops While Debating Abortion
Meanwhile, Republican operatives have told Rolling Stone that new internal polling shows that abortion "doesn't even rank as a top-five issue right now" among primary voters they're courting. Per the mag:
Trump isn't the only Republican candidate caught between hardcore supporters demanding new curbs on legal abortion and a majority of voters who continue to reject an anti-abortion agenda at every available opportunity. Rolling Stone also spoke to half a dozen longtime GOP strategists working on races for next year, almost all of whom say they are advising their candidates to talk as little as possible about GOP abortion proposals at this time. And party operatives are hoping anti-abortion voters won't notice or won't care. According to a Republican operative working on 2024 Senate races and another source who's pored over the private data, recent GOP internal polling in multiple states has shown that abortion doesn't even rank as a top-five issue right now among those Republican primary voters.
"The 'Dobbs effect' is real and maybe devastating," one anonymous Republican member of Congress, referencing the Dobbs v. Jackson case the Supreme Court used to overturn Roe v. Wade, told Rolling Stone. "And there isn't a solution that everyone can rally around yet."
This may explain why, despite sounding so proud to sign the bill into law, DeSantis chose to not mention signing the six-week abortion ban in a speech at the ultra-conservative Liberty University—the school co-founded by culture wars OG crank Jerry Falwell Sr—on Friday. As Politico reporter Gary Fineout noted, the ban was mentioned in the introduction of DeSantis.

And it's not only DeSantis who is trying to keep the conversation off of abortion. Republican politicians have preferred this week to talk about literally anything else—even their own vacuums—than the Texas abortion pill ruling. According to the RS report, six longtime Republican strategists "say they are advising their candidates to talk as little as possible about GOP abortion proposals at this time. And party operatives are hoping anti-abortion voters won't notice or won't care."
Campaign staffers are hoping abortion flies under the radar—fat chance!—because there is absolutely no consensus among conservatives on what to do about abortion. Republican National Committee chairwoman Ronna Romney McDaniel seems to be trying her darnedest to rally conservatives around a national 15-week ban, the New York Times reports. That ban is repeatedly introduced by Sen. Lindsay Graham (R-S.C.) nearly every session. Meanwhile, Rep. Nancy Mace (R-S.C.) has been trying to pull her party back to the center on abortion, going so far as to suggest the U.S. Food and Drug Administration ignore the ruling by federal Judge Matthew Kacsmaryk that would rescind the agency's approval of the abortion pill.
When you zoom away from Capitol Hill, the contradictions just start pilling up. Carol Tobias, president of the National Right to Life Committee, suggested that states should continue using NRLC's model legislation that bans abortions except for imminent danger of the life of the patient with possible additional exceptions for something like incest or rape. But Katie Glenn Daniel, the state policy director for Susan B. Anthony Pro-Life America, said national was the way to go because Democratic governors "are very motivated" to protect their state's abortion access. Then, if you'd like to introduce yet another possible goal: The Americans United for Life tweeted that their goal is constitutional protections for fetal personhood via executive order under a Republican president.
Republicans are scrambling to solve their abortion problem of their own making. Nevermind that the answer is pretty simple: Two-thirds of Americans think abortion should be legal in all or most cases. Maybe just stop advocating for and implementing anti-abortion policies? But that would be too simple.
Instead, the latest Florida bill, once it goes into effect, will have a devastating outcome on the whole American South. Florida was one of the few places abortion seekers could turn to in a growing desert of care; now, North Carolina and South Carolina are the only remaining states in the region where there is any kind of access—Georgia is under a six-week ban—and continued access in those states is not even guaranteed.
Within the last month, North Carolina State Rep. Tricia Cotham (R) switched parties, handing a supermajority to the Republican legislature. That means the Democratic governor's veto isn't quite as powerful. She's said she's open to abortion bans, but declined to give a number.
Beyond the Carolinas, the closest abortion care for those in the Southeast include Kansas, Illinois, Ohio, Virginia, and Puerto Rico. DeSantis knew exactly what he's doing by signing the bill—even if he wants to keep it quiet.