Rihanna is the most important millennial of our time. The Rihanna Rihport is where we chronicle the magnitude of her lived existence.
Dateline: Rihanna, January 1—Oh my lordess on high Rihanna, it is a brand new year and while that is cool and everything, it is more importantly definitely the year we are going to get #R8! Aka Rihanna's EIGHTH album! Over the holidays Riri spent extremely quality time in her home of Barbados, doing all the things that even you and I would do like hanging out with her grandpa and playing with Majesty except she was also working a bunch too, obviously singing notes into a microphone that are the earthly equivalent of a million angels' and nightingales' vocal chords gilded in gold and platinum and rubies and diamonds except BETTER because it is RIHANNA!
Speaking of RIHANNA, she spent her New Year's Eve maxing and also relaxing—max-laxing? MAYBE!—on the island of St Bart's, going to yacht parties with Sean Combs, taking selfies in wicker davenports and laughing, and running carelessly down the beach with one very lucky wine glass (above!). Our lady of perfection, progenitor of sheer excellence and goodness, rang in 2015 the way a woman of her global stature and importance should!: happy and on a tropical island with celebrities that are ALMOST as important as her, the great glorious one!!
Since we don't know if Rihanna made any new year's resolutions—to be the vision of perfection some more, no doubt!—it got us thinking about what her past year was like and how we were so sad because she didn't release any new music (other than the clips she posted on Instagram, of course!). And the craziest part is that even so she managed to make each day to become an even better person and human, who cares more and more about the people in the universe and also can be an even better singer than how she was the best singer in the first place, and also a better person! It was so bananas looking back at her 2014 and seeing the further rihvolution of total perfection and unity of humanity through the flawless and indefatigable ROBYN RIHANNA FENTY!!!
G/O Media may get a commission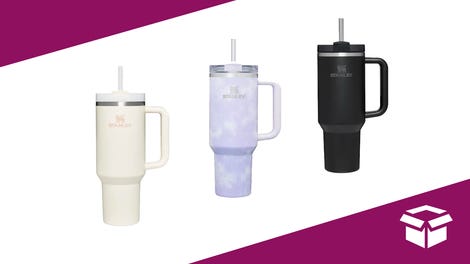 Up to 45% off
Stanley Cup Sale
JANUARY 2014
Riri was a lot colder on New Year's 2014—ICE COLD! Remember how she had that party at her apartment in New York City with BFF Melissa Forde and other BFF Cara Delavingne, and then they went to 40/40 Club and SHE WORE FOX!!! <<<<DEAD>>>> If that weren't enough to BLIND you with its beauty, she showed up to Clive Davis' Grammys brunch in yellow satin and was like "hahahahahha I am Rihanna!" And she WAS. Also, she partied at glamorous Hollywood celebrity nightspot 1OAK!!!
FEBRUARY 2014
GASP, people were like, is that Drake with Rihanna? Are we spotting them right now? And we totally were but people like making up rumors so we aren't even going to HEAR whatever you all have to say about it! They are GOOD FRIENDS!
MARCH 2014
The gorgacious and inimitable slay queen takes on FASHION week in gay Paree, or should we call that BAE PAREE!!!!!! Jean-Paul Gaultier, Givenchy, Stella McCartney. Chanel! How can one person look so perfectly stylish in so many types of looks? Well it is because she is Rihanna of course!
Ooh la la, c'est MIU MIU!
Most importantly, the greatest union of the universe came to be, even greater than the force a thousand Rihannas and Drakes could conjure if they were winged and riding the wick end of a thousand comets through the milkiest regions of space. RIHPITA!!!
APRIL 2014
DRIHANNA?! COULD IT BE TRUE? The hot singing duo is "spotted" even more times, at clubs, on the streets, and through the WINDOWS of those restaurants! CELEBRATING MELISSA FORDE'S BDAY! Could it be love?!
You can tell it is Drizzy because the way his hand is placed stressfully on his head, because he is so nervous around the celestial presence that is the good goddess Riri!
Love was definitely in the air that month because that was also definitely the month that she maybe made up with her definite BFF Katy Perry, "partying" at 1OAK in NYC while DJ DIPLO performed to a celebrity club crowd!!
She also spent the month in pure elegance, at the MTV Movie Awards, the Costume Institute Met Gala, and her own Met Gala afterparty! Rihanna may not have released any albums but she continued to show that being a STYLE ICON is its OWN type of RELEVANCE! Where, though, are those JAMS!!
MAY 2014
INSTAGRAM BANNED @BADGALRIRI. OUR HEARTS TURNED TO STONE.
JUNE 2014
Our hearts were REVIVED when Rihanna wore Swarovski crystals to the CFDA Awards and proved that she can wear almost literally nada and still be the classiest and most elegant beauty on PLANET EARTH!
To all the haters she was like
#freethenipple
JULY 2014
In the heat of summer Riri was laidback and having FUN in the SUN! She was like "hahahahha wearing my nightgown. I am ROBYN FENTY!"
Also, she had to get a lot of rest because she was about to put in WORK on the Monster Tour with Eminem! We can see why you would wear the nightgown Rihzus, so you could sleep at whatever time before you went to perform in so many places! Get that BEAUTY REST!
AUGUST 2014
MONSTER TOUR! Some devoted Eminem fan recorded the WHOLE kickoff date and it was PERFECTION! She did this for the entire month of August until...
SEPTEMBER 2014
...When she literally "TURNED HEADS" by debuting the first clothing from Alexander Wang's H&M collaboration even before it had been released! Say it ain't so, Wango!
Just walking casually by the handball court, just like any other New Yorker... except I am RIHANNA!
September 2014 was also important because she "stepped out" looking like 1990s Janet or Halle except for Rihanna and the Navy was HERE. FOR. IT!
OCTOBER 2014
Remember fonder days in Spring when DRIHZUS were haunting one another with teddy-bear eyes, following each other around to VIP clubs across America and Europe and generally being da CUTEST maybe-couple DEF friendcrew this side of the HEMISPHERE? Welp: a POX on Aubrey Graham because while he was on tour with his label dad Lil Wayne he made some comments that showed that he is sad and jealous that Rihanna is NO LONGER IN HIS VENN DIAGRAM! ALSO! Some fakers thought that Rihanna was on Instagram again but she most definitely WAS NOT! And because we're all simply DYING for new Rihanna art, some OTHER faker released a not-true tracklist, also debunked! And because she is the greatest person on the actual planet, Rihzus also hosted a gala for AMFAR where she spoke like a beautiful queen and gave a lot of money to charity. Shine bright like a diamond, Riri!
Also, she ate dinner at Da Silvano in NYC BY HERSELF, because she is an INDEPENDENT WOMAN!
NOVEMBER 2014
RIHANNA WENT BACK TO INSTAGRAM AND IT WAS AS THOUGH A LIGHT WAS TURNED ON IN OUR HEARTS, LIKE WE GAINED BACK OUR ABILITY TO SEE BEAUTY AFTER HALF A YEAR LIVING IN DULL BLACK AND WHITE. WE WERE LIKE:
To celebrate, Rihanna went to her very first vogue ball in Queens with FKA twigs and Rob Pattinson, played the Concert for Valor to honor our troops because she is an immortal with a heart of gold (maybe that is why she is immortal, now that we think of it!!), let us hear a little bit of a new song from #R8 (JUST THE TIP!) and went shopping at Reformation because SHE REALLY IS JUST LIKE US!!
DECEMBER 2014
To close out the end of the year, our gorgeous and honorable Rihanna held her first annual Diamond Ball for charity and was generally the most beautiful and generous person on the entire PLANET, and also she sang some songs to the rich and famous people who went to give the money to less needy and she sounded like THE HORNS OF THE SERAPHIM, but with BETTER PITCH! Afterwards, she smoked out her best friends and honored the Navy by literally wearing navy! In a gown by Zac Posen that she was wearing like "ahahahahah what the fuck y'all I'm Rihanna! Ahahahahah!"
Cheers to you, Badgal Riri, most holy and glorious on high, and here is to the most glamorous 2014 full of growth and wonderful experiences, and to 2015 because this is the year that we are certain you will give us #R8! OH and to the HOSERS who think "World Peace" is an #R8 leak you obviously do not know the work of Rihanna AT ALL because FIRST OF ALL, she rejected that GRIMES submission because those of us who like Rihanna could tell that it sounded like a reject from Rated R which came out in 2009, and "World Peace" sounds like a double-DOUBLE reject from Rated R, plus the "MASSIVE" dubstep drop sounds like Chase & Status from 2008 which is who she worked with a bunch on Rated R! GOD GET REAL PEOPLE, Rihanna is the smartest and coolest of all pop stars and everyone's like "OOH RIHANNA IS TOTALLY PUSHING MUSIC FORWARD WITH #R8" and she is ahead of every single NEW important trend so why would she recycle some dumb crap from 2008 that she didn't even use for her brand NEW album? YALL TRIPPING! Here is something she did for #R8 though, which was go to Paris in a Dior jumpsuit and dishwashing gloves and let her fans go CRAYZEE around her, I wish I had known because I would have BOOKED a trip there JUST TO HOPEFULLY HEAR SOMETHING FROM #R8! RIHANNA WHERE ARE YOUUUUUUUUUUUUUUU?
This has been the Rihanna Rihport.
Images via Splash News. Rihpita image via Getty.