Rihanna quit Instagram in May. The Rihanna Rihport is where we try to cope.
DATELINE: Rihanna, October 2—It's been a fruitful week for Rihanna in the press, which not only broke news of her potential role as the next Bond heroine and theme-maker, but also that the singer, actor, fashion icon and GODDESS OF ALL THAT IS GOOD AND HOLY AND WEEDED ON THIS EARTH will be hosting at an AmFAR Gala next month, presenting an award to none other than fashion god Tom Ford for his decades of work in AIDS activism. Rihanna, she is talented and charitable!
Also, yesterday, she was seen "out and about" in LAX, casual in grey and denim. Outfit-wise, this is Rihanna on her C game—she's probably set her feelings to "chill" status after all her appearances during New York Fashion Week in September. But she is so luminous and ethereal as a human person that she looks absolutely stunning, regardless. Like always, of course! The big question on everybody's lips: where was she going? And, more importantly, did all of that luggage mean that she might be moving to New York? Oh lo, would that she would!!
Her Rihgency at LAX!
Okay but, the big news right now is that on September 27, paparazzi captured Rihanna walking in New York City wearing fawn-colored Timbs, jeans, and a grey cashmere sweatshirt. And later that day, still on September 27, a different Getty photographer captured Rihanna leaving the airport in Los Angeles. IN THE SAME OUTFIT!
G/O Media may get a commission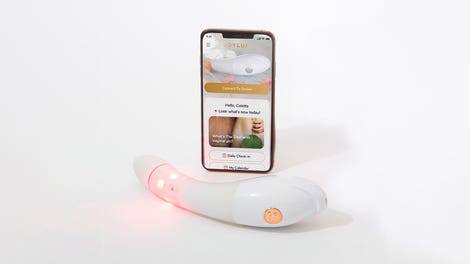 $50 Off
Joylux vFit Gold Device
NY > LA = O RLY?!
ELSEWHERE! Drake, rumored one-time flame of Rihzus, expressed his sorrow at their breakup during his last concert on tour with Lil Wayne. After executing some awkward pop-and-locks during Weezy's performance of Loyal, he told Wayne,"I just been listening to too much Breezy lately, you know? Man, I shoulda brought that shit out earlier. Maybe I coulda made that shit work with Rihanna a little better."
That may sound like a dis to both Chris and Rih, but those trained in the dark arts of Drakeish can parse it for you: Drake is still so sad that his dream girl Rihanna just isn't that into him, and so he had to make Breezy feel small in order for Drizzy to feel big. Poor Drake! We understand, though. Love triangles are so complicated, especially when they involve a certain Badgyal... you know who we mean!!
This has been the Rih Rihport.
Images via Pacific Coast News.