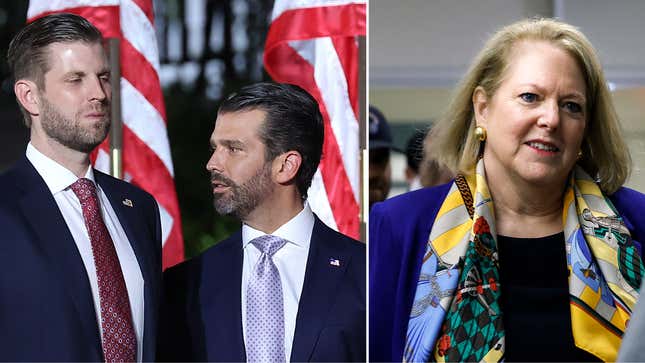 Former President Donald Trump appeared in Manhattan Criminal Court on Tuesday and pleaded not guilty to 34 felony counts of falsifying business records in relation to his alleged role in making an illegal hush money payment to an adult film star in 2016. In response, Republican politicians, right-wing media, and Trump's large adult sons have taken this matter about as well as you'd expect—that is, by sharing information about the daughter of Judge Juan Merchan on social media to try to discredit the case against their dad.

Infamously Thin-Skinned Man Joins Twitter's Board
Donald Trump Jr. and Eric Trump both shared articles from right-wing outlets reporting that Loren Merchan worked for Vice President Kamala Harris' presidential campaign back in 2019. "Seems relevant... yet another connection in this hand picked democrat show trial. The BS never ends folks," Don Jr. wrote in a tweet linking a Breitbart article on Loren. Sharing the same article, Eric wrote, "They are all hand picked. It is all pre-arranged. This corruption is on a different level."
Based on these posts from Trump's family, it's pretty clear what's about to happen next. Trump and the right will inevitably run with the narrative that this, in their own words, is all a "show trial" due to Merchan's daughter's politics. It's certainly convenient for the right to suddenly care about judicial conflicts of interest in this particular case, given everything we've learned about the Supreme Court in the last year alone.
Specifically, Supreme Court Justice Clarence Thomas' wife, Ginni Thomas, made headline after headline last year over a raft of evidence that she colluded with top Republican leaders—including Trump's then-chief of staff Mark Meadows—to try and overturn the 2020 election. Ginni is also connected to more than half of all of the anti-abortion organizations that lobbied for the Supreme Court to overturn Roe v. Wade last summer. I'm all for talking about "show trials" and judicial corruption, but it's certainly odd to have a conversation on this issue that doesn't start with the Thomases—that is unless you don't actually care about judicial corruption at all and simply wish to delegitimize a strong legal case against your dad.
Don Jr. and Eric's comments on Loren Merchan closely echo Trump's all-caps post shared on Truth Social earlier on Tuesday. He wrote: "THE HIGHLY PARTISAN JUDGE & HIS FAMILY ARE WELL KNOWN TRUMP HATERS. HE WAS AN UNFAIR DISASTER ON A PREVIOUS TRUMP RELATED CASE, WOULDN'T RECUSE, GAVE HORRIBLE JURY INSTRUCTIONS, & IMPOSSIBLE TO DEAL WITH DURING THE WITCH HUNT TRIAL. HIS DAUGHTER WORKED FOR 'KAMALA' & NOW THE BIDEN-HARRIS CAMPAIGN. KANGAROO COURT!!!"
The information that the Trumps have shared on Merchan and his family is readily publicly available. But given the intensity of Trump supporters' feelings about the trial and their history of violence, top Democrats and others have expressed concern about what the Trump family's social media posts could inspire, especially as judges' family members have sometimes faced violent retaliation related to their work. Tensions are certainly running high with Trump's case, as some of his supporters protesting in Manhattan were seen wielding signs with violent messages. I highly doubt being told it's all a conspiracy will calm anyone down!