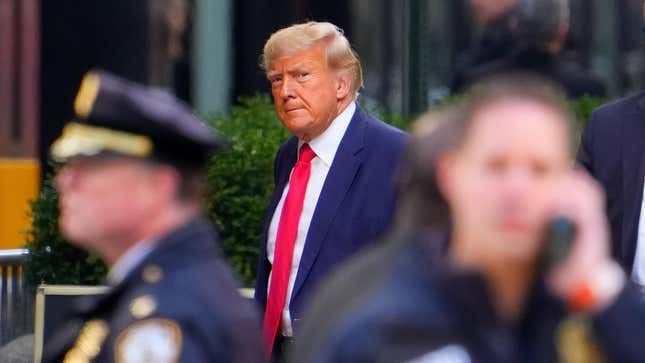 Florida man and twice-impeached president of the United States Donald Trump flew back to New York on Monday to face the music: He's been indicted for financial crimes and now has to report to court for booking and arraignment—aka to have his charges read, enter a plea, get fingerprinted, and get his mugshot taken. Trump left Mar-a-Lago today and is expected in court tomorrow.
Infamously Thin-Skinned Man Joins Twitter's Board
The exact charges aren't yet known as the indictment remains under seal, but Manhattan District Attorney Alvin Bragg impaneled a grand jury to hear evidence that Trump orchestrated a $130,000 hush-money payment to former porn actor Stormy Daniels via his fixer, Michael Cohen, and tried to keep all those payments off the books by referring to them as "legal fees." CNN reported that he's facing more than 30 charges.

Trump turning himself in means that Florida Governor Ron DeSantis (R) has likely dodged a bullet. It would have been very awkward if the likely 2024 candidate—who needs Trump's voters to win—had to decide whether to hand him over to the Manhattan DA and piss off #MAGA-world, or help his likely rival and possibly get sued for fighting his extradition.
But the whole thing is still a circus. The Trump children, of course, were posting through it:
New York's FDR Drive was blocked off as a motorcade including Trump's limo made its way from LaGuardia Airport to Trump Tower on Fifth Avenue. And the media couldn't help but do tongue-wagging live shots, which were reminiscent of the coverage of OJ Simpson's white Bronco—except in that case, a murder suspect was actually leading cops on a high-speed car chase.
I wrote that we all deserve to see Trump's perp walk, but it appears that Trump desperately wants one, so now I do not want to see it—I want him whisked away in a windowless vehicle in the dead of night. Rolling Stone reported Monday that Trump turned down an offer to be arraigned over Zoom because he wants the most public of a spectacle possible so he can fire up the grievance cannon:

"He wanted a perp walk, he wanted daylight hours," says the law enforcement official, who's involved in aspects of the security planning. "He wants to get out of the vehicle and walk up the stairs. This is a nightmare for Secret Service, but they can only strongly suggest—not order—that Trump enter through the secure tunnels," the official says. "Trump wants to greet the crowd. This should be a surprise to no one—especially not his detail."


Secret Service had argued in favor of holding the proceedings outside of court business hours, at night with minimal cameras and less risk. But Trump, a source close to his legal team says, wants to create the type of scene that he believes will galvanize his supporters.

"It's kind of a Jesus Christ thing. He is saying 'I'm absorbing all this pain from all around from everywhere so you don't have to,'" says the source. Describing the message Trump hopes to send his supporters, the source says: "'If they can do this to me they can do this to you,' and that's a powerful message."
Actually, "they" can only do this to you if you commit crimes.
Now, Rep. Marjorie Taylor Greene (R-Ga.) is reportedly helping to organize a rally in New York for Tuesday morning to give him the money-raising, potentially violence-inciting spectacle he so desperately seeks.
Of course, this isn't the first time Trump has endangered his Secret Service detail. Back in October 2020, a covid-positive Trump briefly left Walter Reed hospital to take a "joyride" in his heavily armored SUV. Everyone was wearing masks, but the risk of transmission was still very high because, as one expert noted, the car is "hermetically sealed against chemical attack" and has minimal air recirculation. This was pre-vaccines, the agents had to quarantine for 14 days afterward. When Trump was discharged, he made a big show of removing his mask at the White House, and his administration offered few details on how staff would be kept safe when he was only about five days into his infection.

While Trump may want cameras as he enters the courthouse, he apparently doesn't want any inside the courtoom itself. According to ABC News, Trump attorney Susan Necheles said courtroom cameras "will create a circus-like atmosphere at the arraignment, raise unique security concerns, and is inconsistent with President Trump's presumption of innocence." Except he's already deliberately manufacturing a circus outside.
Trump probably wants to use the perp walk footage to fundraise, as his grievance-laden emails have already led to more than $5 million in campaign donations in the first 48 hours since the news of his indictment.
Oh and, per Rolling Stone, Trump may end up with "a group mugshot" due to his Secret Service detail surrounding him at all times.
A gentle reminder that this is just one of the four active criminal investigations Trump currently faces.