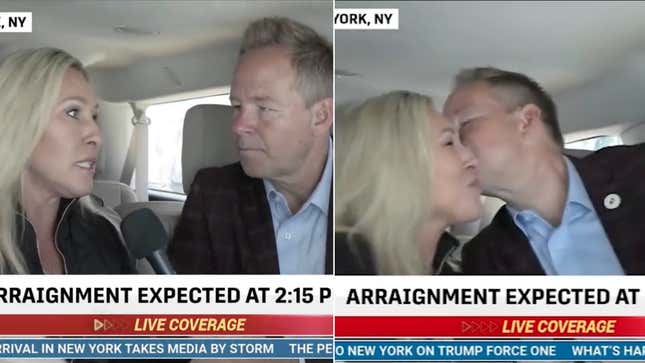 Shortly after being booed off the scene of a pro-Trump rally in Manhattan by counter-protesters on Tuesday morning, Rep. Marjorie Taylor Greene (R-Ga.) had some time for a very special interview in (drumroll please)… the van of her apparent boyfriend, Right Side Broadcasting Network's Brian Glenn. Hiding out in a car with Glenn, Greene spoke of former President Trump's Monday arrival in New York for his arraignment and compared him to Jesus Christ and civil rights icon Nelson Mandela.

'More to Love' Existed Precariously Between Empowering and Exploitative
"President Trump is joining some of the most incredible people in history being arrested today. Nelson Mandela was arrested, served time in prison. Jesus! Jesus was arrested and murdered by the Roman government," Greene told Glenn, as the visibly love-struck far-right propagandist nodded along in support. "There have been many people throughout history that have been arrested and persecuted by radical corrupt governments, and it's beginning today in New York City. And I just can't believe it's happening, but I'll always support him."
Greene's comments echo similar talking points from within the Trump camp. A source told Rolling Stone the former president will use his forthcoming arrest to try to position himself as a Christ-like figure to galvanize his supporters: "It's kind of a Jesus Christ thing. He is saying 'I'm absorbing all this pain from all around from everywhere so you don't have to.'" I don't remember Jesus being indicted for making illegal hush money payments to an adult film star, but I haven't done a close reading of the Bible.
As for Greene's creepy interview with Glenn in his van on Tuesday, can I just throw out there that her comparison of Trump to Jesus and Mandela somehow wasn't even the oddest aspect of all of this? Out-of-pocket comments are pretty par for the course for the Georgia congresswoman, who's equated covid regulations with the Holocaust and recently devoted a Sunday 60 Minutes interview to broadly calling the Democratic Party "pedophiles." So, I was generally prepared for some variation of her comparing Trump to Jesus.
What I wasn't prepared for was watching Greene and Glenn end the interview with a kiss. See for yourself below, if you can stomach it (I scromited):
Just a few days ago, Glenn had joined Greene in the back of a car on the way to a dinner gala in Pennsylvania—ostensibly as her date—and asked Greene about her reaction to Trump's indictment. Now that's what I call access journalism. "I'm too mad. I am too angry to do a video," Greene told him.
The interviews between the very obvious couple all seem to be coming out right now, but Greene and Glenn actually share quite a bit of history at this point. Both filed for divorce from their respective spouses at roughly the same time in September 2022, per the Daily Mail. (This, of course, after the Daily Mail reported that Greene had first cheated on her ex-husband, Perry Greene, back in 2012.) Since November, Greene and Glenn have reportedly been inseparable. A bonafide far-right power couple, when they aren't frolicking about Greene's hometown on frequent dinner dates, they attend rallies and political events together.
Glenn insisted to the Daily Mail last November that he and Greene were not a romantic item and that his divorce was unrelated to hers, which had been filed just two weeks prior. I'm honestly swooning at how perfect Glenn is for Greene—they even lie just like each other!
So, there you have it: Trump is on the brink of arrest for alleged, illegal hush money payments to former adult film actress Stormy Daniels; Greene thinks he is the reincarnation of Jesus Christ; and somehow, both of those bits pale in comparison to the strangeness of Greene giving interview after interview on the matter to her reporter-boyfriend. Don Jr. and Kim Guilfoyle could never.