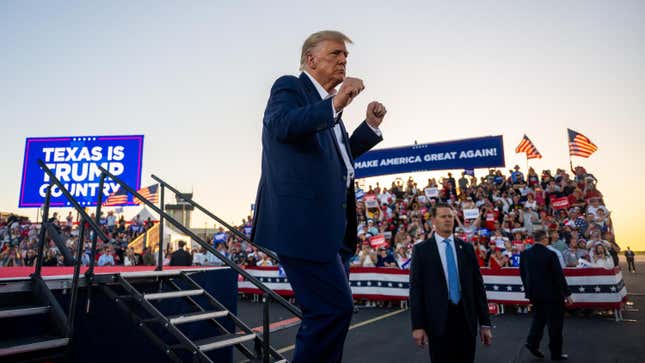 A Manhattan grand jury on Thursday voted to indict twice-impeached former President Donald Trump for a felony, according to the New York Times and CNN. The charges stem from Trump allegedly reimbursing his former lawyer Michael Cohen for a $130,000 hush-money payment to former porn actor Stormy Daniels and trying to keep all those payments off the books. (The money was for Daniels to keep quiet in the final weeks of the 2016 election about her alleged affair with Trump years earlier.) The felony indictment remains under seal by the office of Manhattan District Attorney, Alvin Bragg, and will likely be announced in the coming days. Bragg's office will negotiate Trump to surrender and to face arraignment. It appears Bragg is set to win the prize for being the first elected official to charge Trump for one of his many alleged crimes.

Kansans Rejoice As They Vote to Protect Abortion Rights
Trump is facing several other active investigations, including his handling of classified documents, his failed attempts to get Georgia officials to call the state in his favor in the 2020 election, and, of course, that incitement of violence for the Capitol insurrection.
Trump launched his third run for president in November 2022 and campaign aides were previewing their rebuttals earlier this month when news broke that authorities were preparing to charge him. Trump's spokesman Stephen Cheung said that "Americans will not tolerate Radical Left Democrats turning our justice system into an injustice system to influence a presidential election, which is all they want to do."
Since almost everything from Team Trump is a confession, not an accusation, we should read this statement as evidence that Trump ran for president to influence his criminal case—that is, he hoped no one would have the guts to charge a presidential candidate. And if they did, Trump said in March that he wouldn't drop out and that the move would "probably enhance [his] numbers." Unfortunately, he might be right about that part, as Trump plays "aggrieved conservative man" better than almost anyone on earth.
Trump had posted a deranged screed on Truth Social on March 18 claiming he'd be arrested on March 21 and urged his supporters to protest, which is just a bit too close to what he asked people to do in the days leading up to January 6 if you ask me! That was days before his first 2024 campaign rally in Waco, Texas, and he raised more than $1.5 million in about 72 hours.
What will Florida Gov. Ron "Tiny D" DeSantis say about this, if anything? How many fundraising emails will Trump send out pegged to this news? We have no idea and will, unfortunately, have to follow this cursed news cycle to find out.

In the meantime, we await his perp walk.