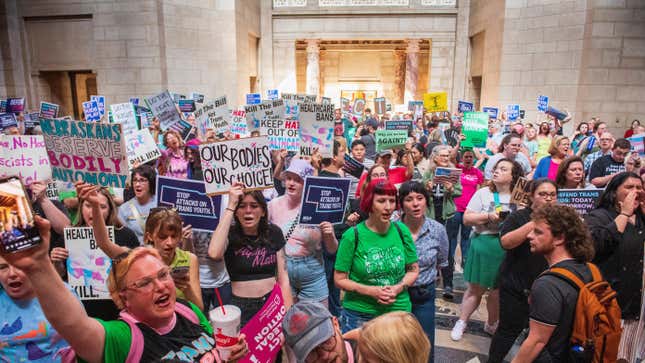 Advocates in yet another state are working to put abortion rights to a popular vote. A Nebraska group called "Protect Our Rights" filed paperwork with the stated intent of amending the state constitution in 2024 to protect the right to abortion, according to the Nebraska Examiner.
Alison Leiby Believes Abortion Can Be Funny — Really Funny!
"Protect our Rights is a grassroots coalition who believe that all Nebraskans have a right to the freedom to make their own decisions about pregnancy and abortion, without government interference," said Andi Curry Grubb, executive director of Planned Parenthood Advocates of Nebraska. "I think the majority of Nebraskans agree that the government shouldn't be involved in these decisions," Curry Grubb said, adding that abortion rights are "becoming more and more of a nonpartisan issue."
Advocates will need to file petition language with the Secretary of State before they can begin collecting signatures to put the measure on the ballot. They'll need to collect about 123,000 valid signatures from registered voters in at least 38 of Nebraska's 93 counties.
There are 10 states that significantly restrict abortion and allow for citizen-led ballot initiatives: Arizona, Arkansas, Florida, Missouri, Montana, Nebraska, North Dakota, Ohio, Oklahoma, and South Dakota. With the Nebraska news, there are now active pro-choice campaigns in five of these states, with efforts in Arizona, Florida, Missouri, and Ohio, where voters recently rejected an effort to make it harder to change the constitution. (The Buckeye State measure is on the ballot this November while the others are slated for 2024, a presidential election year.) Last year, anti-abortion efforts were defeated in three red states—Kentucky, Montana, and Kansas—and protective measures succeeded in the purple state of Michigan as well as in California and Vermont. Taken together, it means the abortion rights side has won in all seven states where abortion has been put to a popular vote since Roe v. Wade fell.
Abortion is heavily restricted in Nebraska. In May, Gov. Jim Pillen (R) signed Legislative Bill 574, a Frankenstein bill that bans both abortions after 12 weeks and gender-affirming care for minors. A judge let it take effect last Friday, despite a constitutional requirement that bills not contain more than one subject; the state Attorney General said the law didn't violate the rule because both issues are health-related. (Legal challenges to the law are still ongoing.)
Lawmakers only tacked the abortion ban onto legislation targeting transgender teens after a separate six-week ban failed to pass. The Frankenbill passed by exactly enough votes to overcome a filibuster, and only because a pregnant Republican lawmaker left the hospital where she was seeking treatment for hyperemesis gravidarum—a rare but serious form of morning sickness—in order to vote for it. Had State Sen. Julie Slama (R) not shown up, the bill would have failed.
Looking at how hard it was to pass these restrictions, it's almost as if banning abortion is unpopular in Nebraska! And now it appears lawmakers will see how things turn out when it's a statewide vote on the issue, rather than a vote in a gerrymandered legislature.