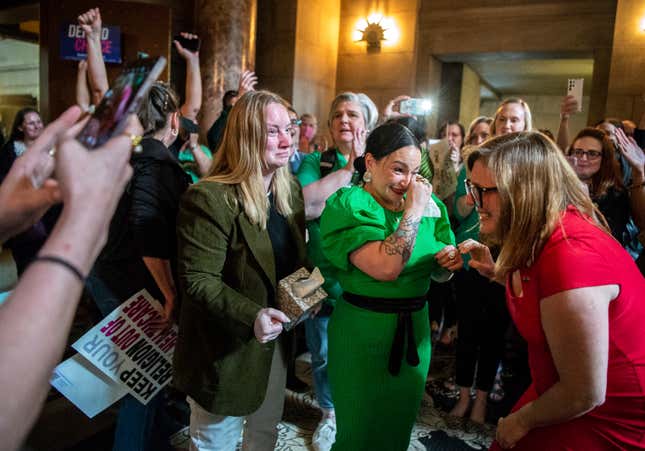 Most abortion news is bad news so here we are with some good news, albeit qualified: Abortion bans failed this week in the Republican-controlled states of South Carolina and Nebraska. Abortion remains legal in both states until 22 weeks of pregnancy for now, though South Carolina's clinics only offer care up to 14 weeks.
Uterus Weekly: 15-Week Abortion Bans
In South Carolina, lawmakers were considering H.B. 3774, a near-total ban with exceptions for rape or incest only through the first trimester. Five women senators (three Republicans and two Democrats) opposed the bill and it failed by one vote. State Sen. Sandy Senn (R) said that abortion laws "have always been, each and every one of them, about control—plain and simple. And in the Senate, the males have all the control."
That's all well and good, but the Senate previously passed a separate six-week ban, S.B. 474, which the House could still take up before the session ends on May 11. Senn was the only Republican woman to vote against both; her two other colleagues, Katrina Shealy and Penry Gustafson, are apparently fine with a six-week ban. Senn herself favors a ban after the first trimester, so this is not over.
Senate Majority Leader Shane Massey (R) told reporters after the near-total ban failed: "It's up to the House now. They have the ability to prevent thousands of abortions in South Carolina." The state is crucial for maintaining some semblance of access in the Southeast, especially since a six-week ban could take effect in Florida this summer.
The Nebraska bill, L.B. 626, would have banned abortion at about six weeks of pregnancy, but it failed—also by one vote. State Sen. Merv Riepe (R) had co-sponsored the original bill and voted for it two weeks ago, but then added an amendment to change the ban from six weeks to 12 weeks. Riepe said he was concerned that people may not know they're pregnant at six weeks. When that amendment didn't get a vote, Riepe abstained from voting on LB 626. So, he's no pro-choice hero because he still wants to ban abortion in the first trimester, but he did prevent the six-week ban from advancing this time. Nebraska's unicameral legislature could try to hold another vote this session, or bring it back next year.
The ACLU of Nebraska said in a statement: "We know that the fight in the long term is not over. But today it's a sense of relief knowing that abortion remains legal in Nebraska."
That's exactly the vibe.