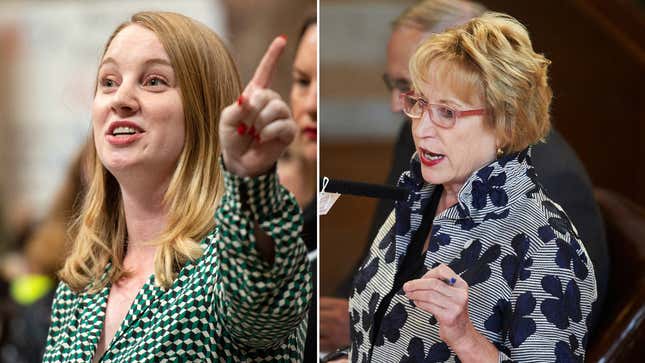 Update, 6:45 pm: Nebraska lawmakers successfully passed the bill banning abortions after 12 weeks and gender-affirming care for people under the age of 19.
Betsy Wolfe Reveals the 'Most Embarrassing Thing That's Ever Happened' to Her on Stage
The Nebraska legislature will vote on Friday afternoon on a Frankenstein bill that combines a 12-week abortion ban with a ban on trans health care for minors. Ahead of the vote, Republican State Sen. Lou Ann Linehan expressed frustration on the legislature floor Thursday that she had missed her grandson's preschool graduation because Democrats had prolonged debates over the bill—and this comment really did not go well for her.

Progressive state Sen. Megan Hunt (I), the mother of a trans child who's been leading the filibuster efforts against anti-trans legislation, delivered an powerful response: "If you want to see your grandson graduate from preschool, you should do that," Hunt said. "Instead, you are here to drag out this session because you won't come off this bill that hurts my son. You hate him more than you love your own family. And that's why you're here." She continued, "We don't need you here. We need you to vote 'no' or 'present, not voting' on 574 [the bill], because there's nothing else in this body that's affecting your family."
"I am not asking you to sit here through late nights to vote on these bills that we're dragging out. I'm asking you to love your family more than you hate mine," Hunt said.
You can watch her whole response below:
It's unclear from local reporting how or if Linehan responded to Hunt publicly after that, and she did not immediately respond to Jezebel's request for comment. But Hunt's comments offer an important context: It's not Democrats and progressives who are derailing Nebraska's state government by filibustering. The bigoted lawmakers willing to die on the hill of transphobia and dehumanizing pregnant people are to blame.
Last month, Hunt (formerly a Democrat who recently became nonpartisan) faced a state investigation for opposing the bill to prohibit medical care for trans youth because she has a trans child, which the state's Accountability and Disclosure Commission has determined may be a "conflict of interest." In an interview with Jezebel earlier this month, the senator said, "Being a loving parent is not a conflict of interest. But they can do whatever they want. They can take me to court if they want to, because it's not a complaint I take seriously."
Hunt told Jezebel that she and her progressive colleagues are prepared to stall or derail every bill the legislature considers in order to obstruct abortion and trans care bans. "We aren't letting a single bill pass until abortion rights and trans rights are protected here."