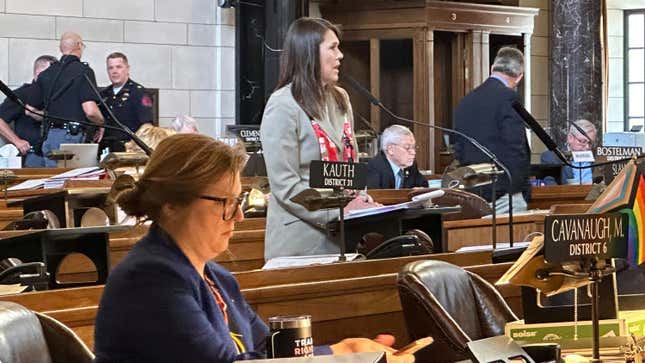 In late April, an abortion ban failed to pass in Nebraska—but Republicans weren't ready to give up on it. So they tacked an abortion ban onto a bill banning gender-affirming care for trans minors, the latter of which they knew they could whip the votes for, and passed the whole Frankenstein bill on Friday afternoon by a vote of 33 to 15. The final bill bans abortion after 12 weeks since a pregnant person's last menstrual period—effectively 10 weeks into pregnancy—with no exceptions for fetal anomalies, and bans gender-affirming surgeries for everyone under the age of 19.
Republicans Pull Out All the Stupid Stops While Debating Abortion
As the country's smallest state legislature debated the bill on Friday, protesters chanted in the capitol rotunda so loudly that viewers could hear it on the Nebraska Public Media feed of the legislative body. Shouts of "save our lives" echoed throughout the building. Democrats and Independents had been filibustering the bill for so long that one Republican lawmaker complained on Thursday that she had to miss her grandson's preschool graduation to be able to vote for it.
Gov. Jim Pillen (R) is expected to sign the legislation when it hits his desk. Oddly, the abortion ban portion of the bill will take effect just one (1) day after Pillen's signature, while the trans healthcare portions take effect on Oct. 1.
Activists are already exploring legal options against the legislation. "To be clear, we refuse to accept this as our new normal. This vote will not be the final word. We are actively exploring our options to address the harm of this extreme legislation, and that work will have our team's full focus," American Civil Liberties Union of Nebraska leader Mindy Rush Chipman said in a statement Friday. "This is not over, not by a long shot."
The parts of the bill targeting trans care for minors requires the state chief medical officer to design new rules for how trans minors can access gender-affirming care that is not surgical, such as puberty blockers. People already receiving treatment are exempt from those restrictions. And the law will ban state funds from going "directly or indirectly" to "any entity, organization, or individual for providing gender-altering procedures" to those under 19. (State Medicaid hasn't covered gender-affirming healthcare since 1990 in Nebraska.)
The bill also includes a civil penalty section, allowing citizens to seek "appropriate relief" (aka damages of "actual damages and reasonable attorneys fees) from the health care professional who performed gender-affirming care within two years. (Again: Gender-affirming surgery on trans kids, despite what Republicans repeatedly have been claiming to stoke outrage, is incredibly rare.)
The 17-page legislation has a rape exception to the abortion component, but that means there has to be a doctor willing to "certify in writing that the abortion was performed because of sexual assault or incest." And the bill describes a fetus as "pre-born child"—an anti-abortion tactic meant to move non-medical, emotionally charged terms into the legislative lexicon. Remember how federal Judge Matthew Kacsmaryk tried to claim "fetus" wasn't a scientific term? It's all a part of the same con.
Friday was a dark day in Nebraska, and State Sen. Megan Hunt (I), the mother of a trans child, said it best during debates: "I am not asking you to sit here through late nights to vote on these bills that we're dragging out. I'm asking you to love your family more than you hate mine."