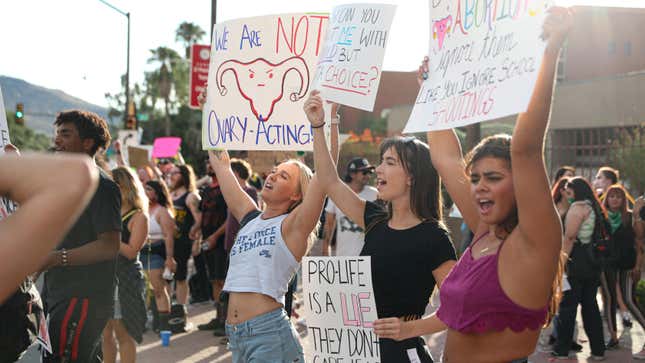 Arizona is the latest state to attempt to protect abortion rights by bringing the question directly to voters. On Tuesday, Arizona for Abortion Access officially filed paperwork that would let Arizonans vote on whether the state should add abortion rights protections into its constitution during the November 2024 election.
Uterus Weekly: 15-Week Abortion Bans
The proposed constitutional amendment for the 2024 ballot seeks to stop any "law, regulation, policy or practice" from "denying, restricting or interfering" with abortion before fetal viability; and from "denying, restricting or interfering" after viability that is deemed "necessary to protect the life or physical or mental health of the pregnant individual." The ballot amendment will also ban penalizing those who aid or assist abortion seekers. Currently, Arizona allows abortion up to 15 weeks.

Arizona's announcement is well timed as today is the first of two elections concerning abortion in another purple state. Also on Tuesday, Ohioans voted on a ballot initiative that would make it harder to amend the state constitution—which abortion advocates are attempting to do later this year (in order to protect abortion rights). Tuesday's election seeks to increase the threshold to amend the constitution to 60 percent, instead of a simple majority. Early turnout has surpassed expectations in the Buckeye State, even if the August ballot isn't expressly about abortion. (The state's pro-abortion rights initiative is in November.)
"Thousands of Arizonans will power this grassroots effort to not only pose this question to voters but ensure it passes next November," Arizona for Abortion Access Chair Dr. Candace Lew said in a statement to the media.
Ohio and Arizona are in good company among red and blue states who have chosen to either vote for abortion access at the state level or voted against anti-abortion statewide efforts. Since Dobbs saw the end of the few federal protections for abortion rights, state-level activists have turned to the ballot initiative/amendment system to protect abortion. Anti-abortion measures were defeated in Kentucky, Montana, and Kansas last year. California, Vermont, and Michigan voted for abortion rights initiatives.

"Since the fall of Roe, we have seen our communities come together as a multigenerational and multiracial movement for reproductive freedom to fight for Arizonans' fundamental rights," Dr. Lew said. "And this ballot initiative will continue to build on this momentum."