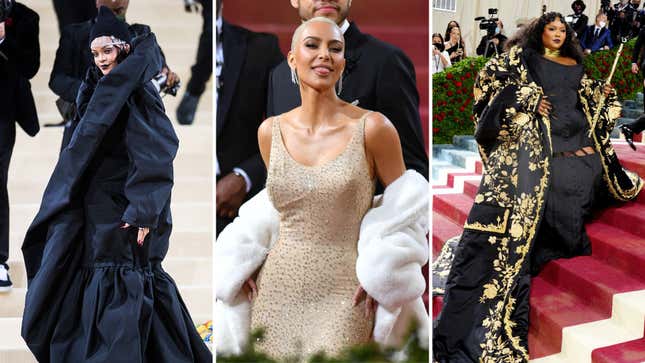 Tonight, the Met Gala returns to New York City. Those who find it impossible not to pay attention (me, sadly) likely know the first Monday of May tends to invite protest—particularly in recent years. In 2021, a cadre of abolitionists were arrested mere feet from the Metropolitan Museum of Art's famed steps. In 2022, the longest, most grueling night of the year went on despite fervent opposition from newly-unionized workers across Condé Nast. This year appears no different because well, the theme is a commemoration of a historically fatphobic bigot and misogynist. Oh sorry, I suppose I should be more specific given the fashion industry is rife with those: It's an homage to Karl Lagerfeld, the now-deceased designer, photographer, and former creative director of Chanel.

Buying Ethical Fashion Used to be A Lot Easier
Guests of this year's gala—co-chaired by Dua Lipa, Michaela Coel, Penelope Cruz and Roger Federer—will be the first to lay eyes on the Costume Institute exhibition, "Karl Lagerfeld: A Line of Beauty," wherein, per Vogue, the designer's life and work will be celebrated. Any guesses as to what won't be on display throughout the exhibition? His denunciation of #MeToo ("It's unbelievable. If you don't want your pants pulled about, don't become a model! Join a nunnery, there'll always be a place for you in the convent. They're recruiting even!"); his take on war and genocide ("I know someone in Germany who took a young Syrian and after four days said, the greatest thing Germany invented was the Holocaust."); and, perhaps most prolific of all, his flagrant fatphobia ("No one wants to see curvy women").
Now, of course, Lagerfeld's odious legacy won't actually repel anyone from attending. For the last week, a cavalcade of celebrities have descended upon the Big Apple. Kim Kardashian (who was once rumored to be disinvited from the gala), Paris Hilton, Doja Cat, Rita Ora, Salma Hayek, a few members of BLACKPINK and many others are expected to make an appearance. Perhaps the most highly anticipated is Rihanna and her couture bedecked baby bump. Notably, Lizzo, who recently bemoaned that the food sucked and the staff was "stingy" when it came to alcohol service, also appears to be undeterred.
Will there be a red carpet debut for new couple Bad Bunny and Kendall Jenner? Might Sydney Sweeney and her fiancé, Jonathan Davino, continue to prove their togetherness? Could veteran Blake Lively pull a bait and switch and show up? We shall soon find out.

However, there's one group that refuses to be a part of the hagiographic event. An independent Twitter account—High Fashion Twitter Met Gala, which is run by a community of fashion obsessives who discuss fashion, design, and industry ethics—usually holds an online companion event, but is keeping its distance this year.
"A lot of us are actually part of the communities that Karl Lagerfeld has targeted in his hateful speech," a coordinator told TIME. "And a lot of the people who participate in our event are part of those communities as well. It's not that we're not acknowledging his legacy and we're not denying it either, but part of his legacy are the harmful things that he's said and we don't really want to partake in celebrating that."
Solidarity!
---