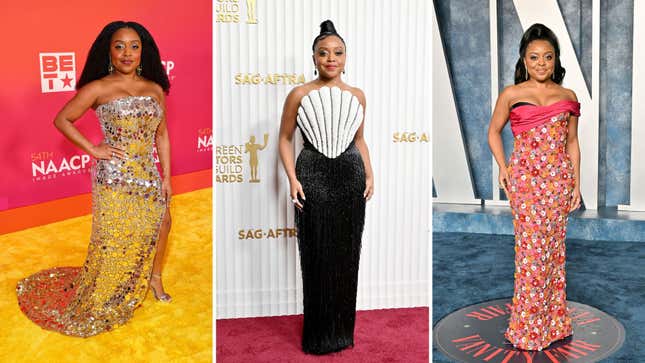 It's already clear that Quinta Brunson is a star. She's won nearly every award she's been nominated for, including an Independent Spirit Award, two Golden Globes, one Emmy, and three NAACP Image Awards. Her comedic timing is incredible, and her writing on Abbott Elementary is irreverent and cheeky without ever being mean. I know I sound like her publicist, but she really is that girl.

Dressing the part of a celebrity is an entirely different skill than the ones that got her all those awards, but even that Brunson has mastered with aplomb. We're done with red carpets for now, so I feel fully confident saying that Brunson is the best dressed of the 2022-2023 awards season.

That is all thanks to her stylist, Bryon Javar, who's credited with every look I've included here and whose creative eye I'm simply in awe of. He and Brunson have created a pretty distinct look for her: Her Javar-styled outfits almost always play with texture in interesting ways, often include statement gloves, and are either strapless or long-sleeved—which suggests to me, as someone with breast tissue that fancy dresses often are not designed to accommodate, that Javar focuses on dressing Brunson in ways that flatter her body. The results are really just magical.
Read on for the looks that, in my humble opinion, make her this season's red carpet champ. (I'll note that some are not technically red carpet looks, but they're amazing outfits so I thought you might want to look at them anyway.)