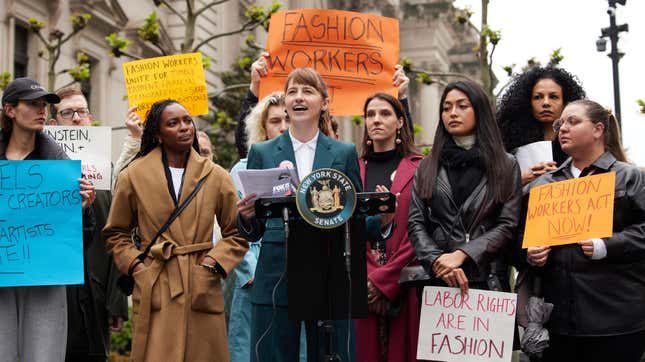 On Monday evening, the nouveau riche and the old-moneyed will together zip into stifling bodices, join hands, and ascend the steps of the Metropolitan Museum of Art for fashion's annual navel-gazing affair. Each year, the Met Gala flaunts an embarrassment of riches as a procession of over-dressed celebrities, power players, and members of the fashion elite attempt to make a style statement. But this year's gathering boasts an embarrassment of another kind, as Anna Wintour hath commanded attendees to kiss the posthumous feet of one controversial honoree: Karl Lagerfeld.
Don't Feel Bad if You Can't Achieve the 'Clean Girl Aesthetic'
The choice to honor Lagerfeld, who died in 2019, and his designs for global fashion houses Balmain, Chloé, Fendi, and Chanel has ruffled feathers in nearly every corner of the fashion industry. Lagerfeld was openly fatphobic, undermined #MeToo survivors, and said he was "less keen" on allowing gay couples to adopt children. The Model Alliance, in particular, has taken up arms to protest the Costume Institute's uncritical regaling of the German-born designer, who denigrated models—the very muses who brought his designs to life—throughout his career.

"The choice to honor Lagerfeld embodies the dissonance of an industry that claims to be progressive, that celebrates body positivity and survivors on the one hand, and then reveres figures like [Lagerfeld] without even acknowledging their regressive views," Sara Ziff, the founder of the Model Alliance, told Jezebel.

Founded in 2012 to advocate for fashion workers' rights and safety, the Model Alliance held a rally on the steps of The Met on Sunday to denounce this year's Met Gala theme, choosing, instead, to uplift the unheard voices of the fashion industry. Calling for overdue reform within a historically predatory industry, Ziff was joined by designer Emma Gage, New York state Sen. Brad Hoylman-Sigal, L'Oreal Global Ambassador Nidhi Sunil, and models Ambra Gutierrez, Mamé Adjei, Rozi Levine, and Roberta Little.

"This year's Met Gala, which happens to fall on International Workers' Day, will honor the creative genius of Karl Lagerfeld," Ziff told rally attendees Sunday. "What will undoubtedly be left unsaid about Lagerfeld, who I worked with regularly as a model, is any mention of his problematic attitude towards women who didn't fit his harmful and outdated standards."

Lagerfeld called models who came forward during 2017's #MeToo movement "stupid," "toxic," and "sordid creatures" who should quit the industry if they took issue with how they were treated. In the same interview for international fashion magazine Numéro in 2018, Lagerfeld stated he was "fed up" with the attempts to root out serial abusers and sex pests within fashion, instead blaming models for the upheaval: "If you don't want your pants pulled about, don't become a model! Join a nunnery, there'll always be a place for you in the convent. They're recruiting even!" Lagerfeld was similarly critical of any woman larger than a size 2, and in 2009, said that "real women" (aka larger women) are "fat mothers with their bags of chips sitting in front of the television and saying that thin models are ugly."

It is precisely these sorts of misogynistic sentiments that have led to prevalent industry-wide abuse for models and other behind-the-scenes fashion workers. Within the $2.5 trillion industry, the management agencies responsible for caring for models—who are often very young, and have moved away from home (and parental supervision) for work—have gone largely unchecked. Ziff said that, as a result, models are often prohibited from viewing their own contracts with clients, charged above market value for cramped housing, forced to take out loans from their agencies instead of actually getting paid on time, and are sometimes denied basic information, including whether or not they will be paid for gigs. Pair these grievances with the faces of conventionally attractive women, and much remaining sympathy falls away, however unfairly.

"I think fashion is seen as frivolous, so the workers' concerns tend to be trivialized and dismissed: the fact that it is a female-dominated industry only adds to that," Ziff told Jezebel. "The gap between the image of glamour and privilege on the one hand, and then the reality of many working people's lives on the other, makes it hard for most people who don't have experience firsthand in fashion to understand how abusive the industry can be, and how pervasive bad working conditions really are."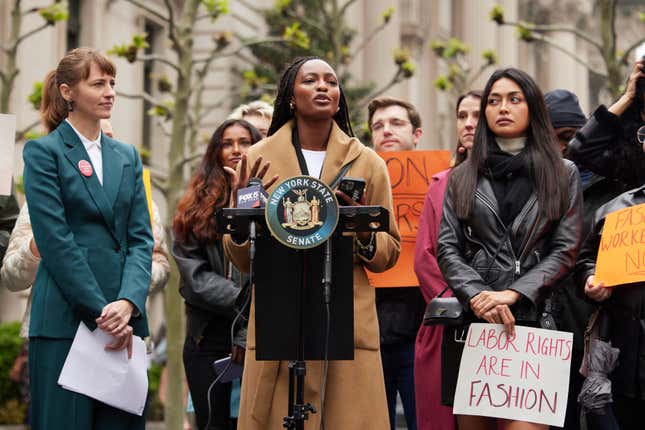 To protect such workers, the Model Alliance is currently pushing to pass the Fashion Workers Act in New York. The proposed bill, which last year made it out of the state Senate's Labor Committee, aims to create basic protections for models by bringing model management companies under regulation for the first time. Ziff hopes the legislation will protect the next generation of models from the horrors she lived through: Last month, she filed a lawsuit alleging an associate of Harvey Weinstein sexually assaulted her when she was just 19 years old, working as a model in New York City. (Ziff declined to comment on the status of the case, citing legal concerns.)

"This is personal," Ziff told Jezebel. "I want to make sure that the people who work in this industry have basic rights and protections and don't have to endure abuse that, unfortunately, I myself faced as a young model."

Despite the Model Alliance's rightful rage, tonight's fetê will almost certainly go off without a hitch. Reality stars will flash their doctored grins, and fans will speculate who amongst them secured a last-minute Ozempic prescription to squeeze into archival Chanel. A round of applause will sound in Lagerfeld's honor. Somewhere in the background, the mannequins giving shape to a dead man's designs will cast their shadows on the evening: They were, perhaps, more respected by Lagerfeld than real women ever were.