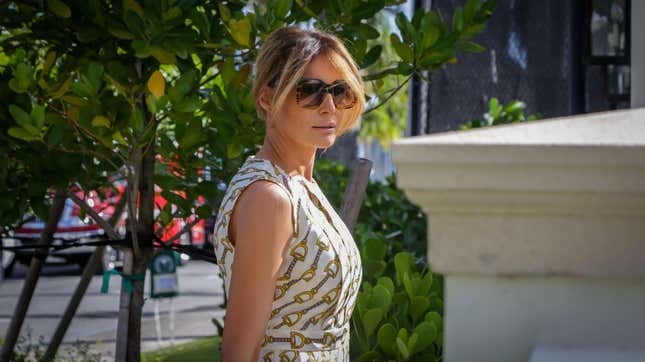 A few months after Ivanka Trump announced that she has no interest in helping her dad become president again, sources say Melania Trump would also very much like to be excluded from her cheating husband's attempt to return to the Oval Office, sources tell People.
Megan Rapinoe Uses Media Time to Discuss "Cruel" SCOTUS Ruling
"Melania is not now or hasn't recently taken part in her husband's political events," a source told the magazine. "It is not comfortable for her."
But please do not interpret her aloofness as indicative of her general personality! It's just that Melania is "angry about her husband's role in the alleged hush money payment" to porn star Stormy Daniels, which in part got him indicted, according to the mag.
"Melania can be aloof and not particularly friendly because she simply wants to be left alone," the source said. I mean—same, honestly.
I don't know who People's sources are, but I must commend them for producing some of the best political gossip stories of the last several months. In March, we learned that Melania spends her days dissociating at Mar-a-Lago and desperately trying to avoid any talk of her current life situation, beyond her still being rich.
"Melania is leading her own life, and still feels happy being at Mar-a-Lago, surrounded by people who love her and who never talk about reality, or bad things about her husband," a source who we have to assume is the same as the current one (I really enjoy assuming it's Melania herself) told People.
In November, Ivanka Trump announced in a statement that she also wants nothing to do with her asshole dad's attempt to re-seize power.
"I love my father very much. This time around, I am choosing to prioritize my young children and the private life we are creating as a family," she said. "I do not plan to be involved in politics."
It beggars belief that any woman in Trump's family would want to distance herself from him after he buried his ex-wife on his New Jersey golf course for tax breaks and was caught on tape admitting to being a sexual predator. But I think I can speak for many when I say that Melania just wanting to be left alone is extremely relatable.