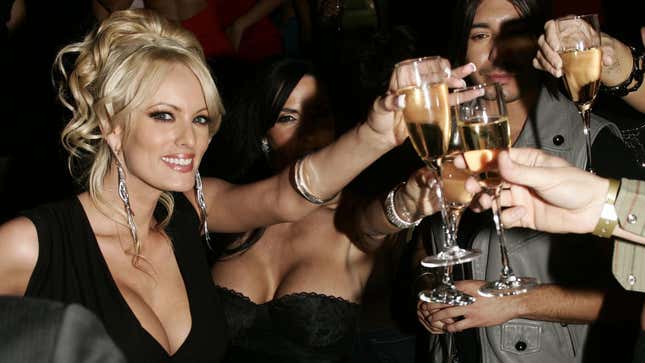 When it rains, it pours, and yesterday was blustery in the best way for Ms. Stormy Daniels, the porn performer at the center of President Donald Trump's indictment. Not only did the adult film star turned ghostbuster (yes…) get the validation of seeing Trump turn himself into a Manhattan court for covering up the hush money payments he sent her leading up to the presidential election in October 2016, she was shown some love in another way, too; Searches for her reached an all-time high on Pornhub.
Olivia Holt Didn't Originally Get the Part of Roxie Hart in 'Chicago'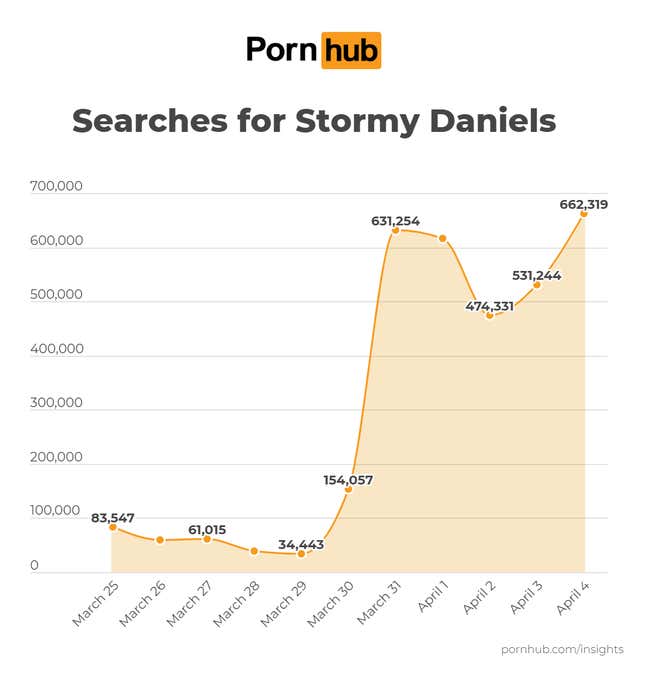 On Tuesday, the website recorded 662,319 searches for "Stormy Daniels," a 32,400 percent increase from Q1 2023, according to Pornhub's statisticians. Searches for just "Stormy" also increased 500 percent. (I suppose some folks in a hurried horny rush couldn't manage to bother with her last name.) That latter piece of data was captured at 1 p.m. EST. Trump turned himself in around 2:30 p.m. EST. I like to think that users searching for Daniels on Pornhub logged off the site to then tune into the arraignment.
What isn't totally clear is whether Daniels, whose real name is Stephanie Clifford, receives any sort of financial kickback from this spike in interest surrounding her on the site. If the users searching her name are subscribing to her content on the site then she surely is—otherwise, a million views on a video gets content creators roughly $700, according to Pornhub. Pornhub and Daniels did not return Jezebel's query on profits. And OnlyFans, when asked if they saw an uptick in subscribers or traffic on Daniels' account, responded that they don't release that sort of information about their content creators.
Ideally, she'll see some sort of monetary gain because, while she was clearly in good spirits yesterday, she was also ordered by the 9th U.S. Circuit Court of Appeals to pay $120,000 to cover Trump's legal fees in another case. Daniels sued Trump for defamation in 2018 after he called her account of their affair a "total con job." The judge ruled his inanity was, unfortunately, covered by the First Amendment.
Top creators on OnlyFans can make millions a year, and Pornhub states that their Model program allows some creators to bring in $40,000/month. Wishing nothing but clear skies and fat wallets ahead for Ms. Daniels!