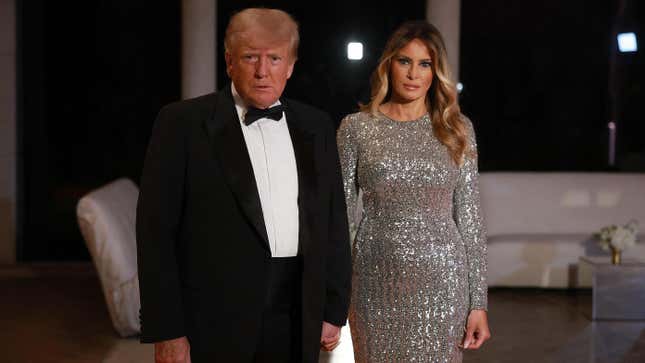 Melania Trump is many things: curious animal observer, bad holiday decorator, and now a full-time dissociative Florida woman.
The Filibuster is Standing in the Way of Abortion Access
Since the Trumps moved back full time to their tacky resort in Florida at the beginning of 2021, the former first lady no longer pays attention to the pesky little thing we all know as "reality." "Melania is leading her own life, and still feels happy being at Mar-a-Lago, surrounded by people who love her and who never talk about reality, or bad things about her husband," a source told People in the funniest exclusive I've read all month.
What bad things could Melania be ignoring? Perhaps...the Georgia authorities who are investigating how former President Donald Trump tried to strong-arm election officials? Could it be the special counsel whose office is pursuing two different lines of inquiry on her husband? Or maybe it's the any-day-now indictment of Trump in Manhattan? Maybe it's that her husband is now a DJ. (I offer my unironic thoughts and prayers at that last development; no one should have to date, let alone marry, a DJ.)
Honestly, it's probably all of it that has Melania fed the fuck up. "She remains angry and doesn't want to hear [the alleged hush money payment to adult film actor Stormy Daniels] mentioned," a source told People. "She is aware of who her husband is and keeps her life upbeat with her own family and a few close friends."
Despite her husband posting through the threat of his possible arrest, Melania "wants to ignore it and hopes it will pass, but she doesn't sympathize with Donald's plight," the source said.
Well at least that latter point we both agree on. (I do not hope it will pass.)
Melanie continues to just live, laugh, love all over Mar-a-Lago, where her parents and 17-year-old son also live. She notably does not associate much with her husband. "They still see friends for dinner at the club, but live separately and do what they want on their own," the source said.
A different source said Melania is able to skate by reality-free because "she will be fine" if Trump were to be arrested. "She is happy when she is in Palm Beach. She has her son and other close family members. They are tribe-like and usually stick together," the source told People. "Despite what happens to Donald, she will be fine. She is well taken care of."
Well, thank god for that. Melania didn't decorate all those Christmas trees for nothing.