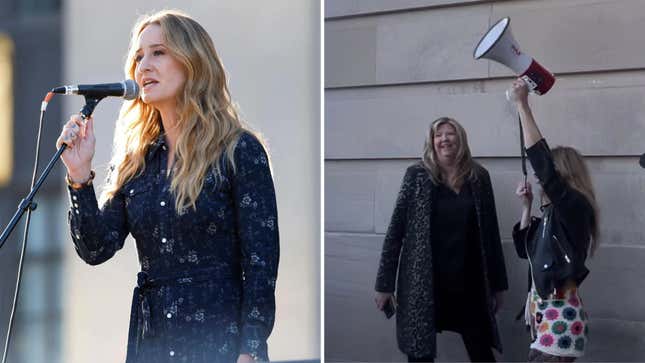 It's been 18 days since a mass shooting devastated Nashville's Covenant School and its community. In just that two-and-a-half-week span, 25 mass shootings—including one that claimed the lives of five people in Louisville—have already occurred.

Crush of the Week: Daniel Radcliffe's Weird Al
The sequence of bleak sameness that follows shootings in the United States began in Nashville the second the Covenant shooting made headlines. First, thoughts and prayers. Soon, a vigil. Then, protest and empty promises from lawmakers who continue to take money from the NRA while they draft the mass murder of children and innocent people into a culture war. Finally, silence. Two weeks is about the time when folks begin to head home—that is, if they haven't already. Among those still standing is Margo Price.
Since the March 27 shooting in Nashville, not far from where her own children go to school, the Grammy-nominated singer-songwriter and memoirist has been at the statehouse. Her voice has joined, and sometimes led, the chorus in support of the "Tennessee Three"—Tennessee state representatives Gloria Johnson, Justin Jones, and Justin Pearson. She was there, among scores of student activists, when the trio outrageously faced expulsion by their Republican counterparts for their part in the protests, and when the latter two were reappointed.
Her megaphone even made it into public record: In one imbecilic instance, during the vote to expel Johnson, Johnson was asked whether or not a megaphone Jones and Pearson had used days earlier (in what Republican lawmakers incorrectly likened to "an insurrection") belonged to her, as it appeared similar to one she'd been pictured using. Only, Jones and Pearson had used a different one, and "hers" actually belonged to none other than Price.
"I knew without a shadow of a doubt that somewhere in the conversation my megaphone was going to get brought into it," Price told Jezebel about watching the proceedings on TV. "Then when Gloria said it out loud, I was screaming across the house like, 'Mom! They're talking about my megaphone!'"
In a phone call with Jezebel this week, during which she often became emotional, Price spoke about encouragement from Joan Baez, music's role in the movement, and why she keeps showing up to protest against gun violence. (This interview has been edited and condensed for clarity.)

---
On how she found out about the Nashville Covenant School shooting:

PRICE: I had recently just moved my children into a school in Green Hills, and that Monday was their first day. I got a call and they said there was a shooting at a school in Green Hills, and I just kind of dropped to the ground. And then, very quickly, the person on the other end said it was a different school. It was hard to shake that feeling...and the kids had to go on lockdown. When they got home, I'd say it was just a really heavy couple of days.
On the candlelight vigil for the shooting victims in downtown Nashville on Wednesday, March 29, and getting engaged in the protests at the statehouse:  
I found out there was going to be a vigil going on and we had planned to attend. Then, I was asked to sing at the vigil. Obviously, it was really difficult to figure out what song to sing at that point. [She decided on an a cappella version of "Tears of Rage."] But I showed up and sang, and actually had a really wonderful conversation with Rep. Gloria Johnson and both of the Justins [Pearson and Jones] of the Tennessee Three about the protest that was going to be on Thursday.
The next day, I called Rep. Gloria Johnson very early, and she said, "Come down to my office, you could walk with me." I hadn't had time to make a sign—I had this megaphone that was given to me by Michelle Manning Barish and Mickey Raphael, but I had never used it. I grabbed it, came to Gloria's office, and she was like, "Well, you're not going to be able to bring that in here." So when we walked outside to meet everybody at the march, she gave it back to me, and I helped lead some chants. I was also there with a group of incredible musicians, and we all sang, "This Little Light of Mine," "Imagine," "Lean on Me," and "Power to the People."
On being there during the vote to expel the Justins, and getting Joan Baez and Emmylou Harris involved:
I was in shock when they announced they were going to expel them simply for speaking out. I was down there the day of the expulsion. There was a lot of protestors outside. It was not a good feeling that day. Every time that I thought, "Well, I did the protest," I kept getting drawn back in. I just felt compelled to show up and sing some songs.
I had put up an Instagram post after I marched on that Thursday, and I tried to write something that would appeal to both sides, which is like, "I am a gun owner. I've grown up with guns, but we still need stricter gun laws." And I got it from both sides. Some people were like, "give up your guns!" and other people were like, "you're a fucking dumbass." I was feeling...not good. I mean, it's not easy to get out there and do what I'm doing, because we know how country music reacts to quote unquote, liberal politics. On the day that I was feeling really down, I listened to a bunch of Joan Baez interviews, and just listening to her speak really brought me comfort and reinforced that I was doing the right thing; that this is absolutely what has to be done even if I'm here by myself.
When I got to meet her on the day of their speech [at an April 8 event at OZ Arts Nashville, in which Baez and Harris were in conversation], Emmylou brought me backstage and she was just kind of singing my praises, saying, "Margo's on our side...she's been out there on the ground." And Joan grabbed my face, and she kissed my head and said, "Keep up the fight." It was a moment that I really needed to keep going in this direction, because a lot of times, I think I'm sabotaging my career, but I feel things too deeply to just sit around while small children are being murdered and not speak up.
[Then] Joan called me—after their talk—and said, "Let me know if there's anything going on." That was Easter Sunday, so of course, nothing was happening on that day, but I had been in correspondence with Gloria Johnson and she said, "Everything's gonna be happening on Monday. It's going to be a really big rally." I just texted Emmylou and said, "Hey, do you want to come down and sing a song for the Tennessee Three?" And she did. We decided, "How about 'I Shall Be Released?'" I just felt so proud of Emmylou that she was willing to show up and be on the right side of history.
On what impelled her to keep showing up to protest:

There's a lot of cognitive dissonance going on right now. Like, do I stay in Tennessee? I mean, I have built everything here. Even before all of this started happening, I felt really alienated. I felt like an outsider. But all that being said, going to these protests and talking to other people and meeting other activists, I feel like I am actually part of this incredible community here that is giving me the strength to stay and try to do things. I realized like, I could move anywhere...there could be a mass shooting anywhere in the United States. It's not just here.
I also think having the traumatic experience of losing a child fuels me as a mother to make sure that this does not happen to any more children at all. If I lost another child, I don't know that I would have the strength to pick up the pieces again and go on. I don't know how that would play out. But the empathy that I have for the parents who are losing their kids, and just the fact that I am a mom, I think that that overrides so much, because the love for my children is like—if I had to choose between playing music or my kids, there's just no way. I'd choose my family.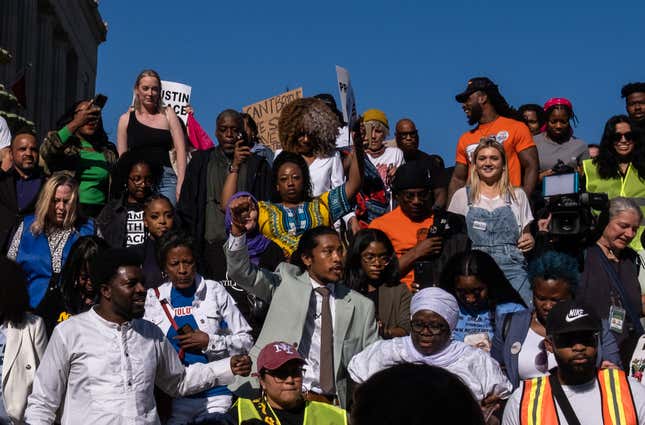 On talking to her kids about the shooting:
We didn't talk too much about the details, but the kids were in lockdown all day. My oldest...he definitely knew. We have friends that...you know, their little boy lost his life. It's very close to home. It's unfathomable. I don't...I don't even know how to talk to them about it. Really, the only thing that I can do is just show up and fight for change, because I don't know how to explain to them why this keeps happening.
On backlash from within the country music industry and people online:
I have been speaking out about gun violence since my first album. I just don't know how to push down the feelings that I'm having. This is something that's not getting better. It's just unfathomable to me that people won't say anything, even if it's just like, "Hey, we just need some stricter background checks" or just adding in their two cents, because they're afraid of their bottom dollar or losing money. But wasn't it Bob Dylan who said, "When you've got nothing, you've got nothing to lose?" I've never been nominated for a CMA award. I've never been in the [country music] community here. I have always been an outsider. So, I'm just going to continue to stand up for my children and for the voiceless in this country.