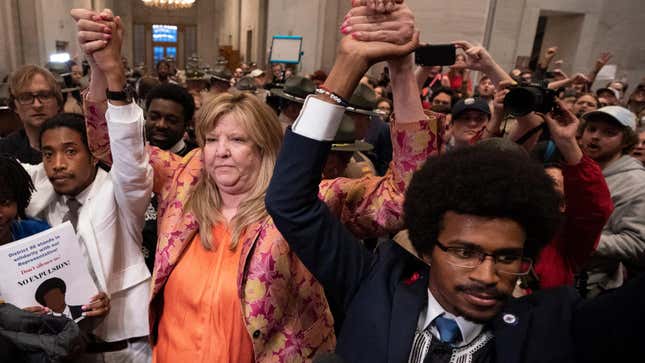 As of this week, the two Black Democratic state legislators expelled from Tennessee's state House over their protests for gun safety legislation have been reinstated to their seats. But the saga around the circumstances of their expulsion continues: On Thursday afternoon, the Tennessee Holler released leaked audio of an internal conversation among Tennessee Republicans confronting one of their colleagues for voting to expel Reps. Justin Jones and Justin Pearson, but not Rep. Gloria Johnson, a white woman who joined Jones and Pearson in their protests. Some members of the GOP were not pleased about these optics.

Taylor Lautner Doesn't Even Remember Saying 'Bella! Where the Hell Have You Been Loca?'
In the leaked audio, which seems to have been recorded shortly after the expulsion vote last week, Rep. Jody Barrett (R) explains why he voted to expel Jones and Pearson, but not Johnson. "I'm concerned I'm going to vote yes on a resolution that I know is wrong," Barrett told his colleagues of his thinking at the time. "We didn't establish that she did all that other stuff." Barrett has previously explained his vote by claiming he "fully intended when I walked in the chamber to vote to expel all three," but upon reading the resolution, noted that "the two gentlemen" (Jones and Pearson) were "going in and out of the room during the session…and trying to incite the crowd," while he claimed Johnson didn't do this.
His Republican colleagues insisted that none of this mattered, and Barrett should have ignored his personal moral trepidations—a small price to pay for the good of the republic, as one Republican put it. As state Rep. Scott Cepicky (R) told Barrett, "You gotta do what's right even if you think it might be wrong."
In the leaked audio, Cepicky railed against Barrett for not simply filing an amendment or raising his concerns about expelling Johnson with party leadership, as this "would've given us the opportunity to not throw the rest of us under the bus." Instead, by voting not to expel Johnson along with Jones and Pearson, the expulsions drew further national attention and accusations of racism for the double standard in how Black representatives appeared to be treated compared with Johnson. "I've been called a racist, a misogynist, a white supremacist more in the last two months than I have my entire life," Cepicky said, audibly angry. "And by golly, I'm biting my tongue. And I'm telling you, all due respect, those days are wearing thin right now."
He continued, "If we don't stick together, if you don't believe we're at war for our republic, with all love and respect to you, you need a different job. The left wants Tennessee so bad…This is not a neighborhood social gathering. We are fighting for the republic of our country right now."
Other Republicans in the audio echoed Cepicky, complaining and painting themselves as victims. "I listened for the last three days to Democrats trash us as racist. I've never had anybody call me a racist. And for the last three days, all I've heard from them is how this is the most racist place—one of them even [said] white supremacist," state Rep. Jason Zachary told his colleagues in the audio.
Earlier this month, Jones, Pearson, and Johnson joined student protesters who entered the Tennessee Capitol to demand gun safety legislation in the wake of yet another mass shooting. In response, Tennessee's Republican House Speaker Cameron Sexton moved to have the House vote to expel the Democrats, with a motion charging them with "knowingly and intentionally bring[ing] disorder and dishonor to the House of Representatives."
"What they did today was equivalent, at least equivalent, maybe worse depending on how you look at it, to doing an insurrection in the State Capitol," Sexton said on the House floor.
Pearson and Jones were both expelled, but not Johnson. In a statement, Pearson emphasized "the racial dynamic of what happened," saying that "two young Black lawmakers getting expelled" but not "the one white woman...is a statement in and of itself."
The Nashville Metropolitan Council voted unanimously (36-0) to send Jones back to the capitol on Monday, and on Wednesday, the Shelby County Board of Commissioners voted to reinstate Pearson to his seat.
Still, there is something extremely unsettling about the ease with which a Republican-controlled legislature was able remove democratically elected lawmakers who were voted to represent their districts. Yet, predictably enough, those subverting democracy think the real problem is protesters calling them racist.