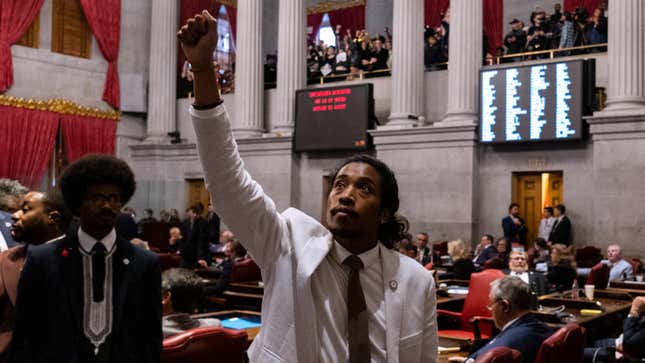 Democracy prevailed in Tennessee on Monday, at least temporarily, as State Rep. Justin Jones (D) was restored to his seat in the House of Representatives.
Olivia Holt Didn't Originally Get the Part of Roxie Hart in 'Chicago'
Jones was one of two Black members to be expelled by Republicans from the state legislature last week after he, Rep. Justin Pearson, and Rep. Gloria Johnson participated in a student demonstration for gun control. (Johnson, the sole white woman, curiously held onto her seat, as Pearson and Jones lost theirs.) But the Nashville Metropolitan Council voted unanimously (36-0) on Monday to send Jones back to the capitol, restoring a voice to the many constituents who felt disenfranchised by losing their elected representative. CNN reports that a crowd gathered outside the vote and chanted, "Whose House? Our House!" in celebration of Jones' return to office.
Republican lawmakers voted to expel Jones and Pearson for "knowingly and intentionally bring[ing] disorder and dishonor to the House of Representatives" by protesting for gun control in the state capitol after the recent mass shooting at an elementary school. "What they did today was equivalent, at least equivalent, maybe worse depending on how you look at it, to doing an insurrection in the State Capitol," said House Speaker Cameron Sexton (R).
Both Jones and Pearson delivered powerful, moving speeches about democracy amid the blatant injustice.
"Until we act, there will be no peace for the thousands of children who came here demanding that we act, who are afraid that if they're in school, they will be gunned down," Jones told a packed state capitol. "Because you have passed laws to make it easier to get a gun than it is to get health care in this state. You pass laws that make it easier to get a gun than it is to vote in this state. And so, that there will be no peace in Tennessee until we act on this proliferation of weapons of war in our community."
The move to expel Jones and Pearson was such a stunning blow to democracy that even President Joe Biden weighed in. "Today's expulsion of lawmakers who engaged in peaceful protest is shocking, undemocratic, and without precedent," he said in a statement. "Rather than debating the merits of the issue, these Republican lawmakers have chosen to punish, silence, and expel duly-elected representatives of the people of Tennessee."
While Pearson remains expelled for now, CNN reports that the Shelby County Board of Commissioners in Memphis will decide whether to reinstate him to his seat on Wednesday.