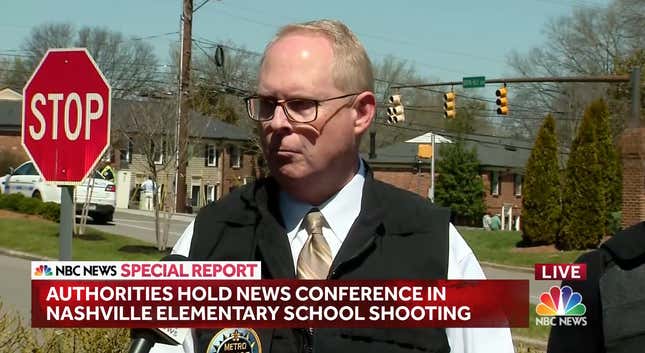 Three children and three adults were killed in a shooting at Covenant School, a private Christian elementary school in Nashville, on Monday morning. Police killed the 28-year-0ld shooter, who had attended the school years previously, within minutes of arriving on the scene.
All of the child victims, whom police identified as Evelyn Dieckhaus, Hallie Scruggs, and William Kinney, were 9 years old. The adult victims were Cynthia Peak, 61; Mike Hill, 61, a custodian; and Katherine Koonce, 60, who, according to the Covenant website, was the head of school.

Though police initially said the shooter "appeared to be a teenage girl," by Monday evening, Metro Nashville Police Chief John Drake named the shooter as 28-year-old Nashville resident Audrey Hale and identified Hale as a transgender person. A police spokesperson added that Hale used "male pronouns" on social media. Police also found that Hale had drawn detailed maps of the school, marking entryways and surveillance cameras, and had written a "manifesto."
Hale carried three weapons: "Two AR-style weapons. One a rifle, another was an AR-style pistol, and the other was a handgun," Drake said. The first calls for help came around 10:15 a.m. local time. When they arrived, police heard gunshots from the second floor, where they encountered the shooter and opened fire, CNN reported. Hale was pronounced dead at 10:27 a.m.
Though shootings at schools are unconscionably common in America, a full 98 percent of mass shootings are committed by men or boys, according to The Violence Project.

During remarks at the White House on Monday afternoon, President Joe Biden said gun violence is "ripping at the very soul of this nation" and the shooting is "every parent's worst nightmare," before calling on Congress to pass his proposed assault weapons ban.
Rep. Andy Ogles, a Republican who represents the district where Covenant is located, said in a tweeted statement that he was "utterly heartbroken by this senseless act of violence." As Insider pointed out, in 2021, Ogles posted a photo of his family posing in front of a Christmas tree holding rifles.
Tennessee Sen. Marsha Blackburn, a Republican, tweeted an anodyne statement saying she is praying "for those affected"—pointedly ignoring the pro-gun policies her party has championed for decades. The NRA has spent over $1.3 million in support of her political career, according to Brady, the nonprofit gun control group.
Covenant School is attached to Covenant Presbyterian Church and has a student body of roughly 200. There are between 40 and 50 adults in the building on any given day, Don Aaron, a police department spokesman, said.