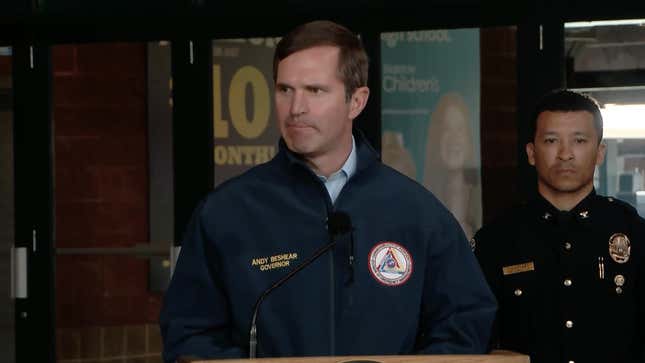 At least four people and the shooter were killed in a mass shooting in downtown Louisville, Kentucky, on Monday, including two friends of Gov. Andy Beshear (D). And at least nine others are wounded, per the Associated Press.

"I have a very close friend that didn't make it today, and I have another close friend who didn't either. And one who's at the hospital that I hope is going to make it through," Beshear told media on Monday of the shooting at Old National Bank in downtown Louisville.
The shooter was confirmed dead at the bank where they opened fire. He's since been identified as 23-year-old employee, Connor Sturgeon, who reportedly posted about being suicidal before the incident. 
The shooting comes one day after a shooting in Orlando, Fla. left four dead and a shooting in Atlanta that left three injured, according to the Gun Violence Archive. Just last week, Tennessee Republicans expelled two state lawmakers who joined student protests for gun control following a mass shooting at a Nashville elementary school that killed six. And in a depressing parallel between that shooting and the one Monday, the wife of Tennessee Gov. Bill Lee (R) also lost "one of her best friends" in the massacre. "Maria woke up this morning without one of her best friends, Cindy Peak. Cindy was supposed to come over to have dinner with Maria last night after she filled in as a substitute teacher yesterday at Covenant," Bill Lee said in a video message to his constituents after the shooting. Of course, even losing a close friend didn't inspire him to call for action on guns.
While Beshear is a Democrat, he faces a Republican-controlled legislature if he hopes to move on any sort of gun-control legislation in Kentucky. His initial statements avoided any discussion of doing so. "When we talk about praying, I hope people will for those that we are hoping can make it through the surgeries they're going through," he said. "Then we gotta do what we have done these last three years after everything. We gotta wrap our arms around these families. And everybody who needs it: Don't be afraid to get some help. This is awful."
Old National Bank CEO Jim Ryan said executives are going to Louisville. "The safety of Old National Bank employees and everyone we serve in our banking center locations is paramount," he said. "As we await more details, we are deploying employee assistance support and keeping everyone affected by this tragedy in our thoughts and prayers."
Updated throughout with additional information