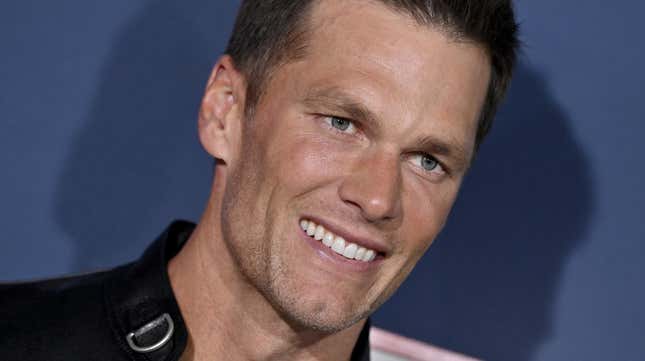 Tom Brady's camp really, really wants you to know that he is using his newly minted days off wisely by making up for long lost time with his kids and definitely not dating.
After announcing his retirement from his football career, again, on Wednesday, sources close to the ex-quarterback told TMZ that Brady is focused on spending "the next few months just being a dad" and being (louder for the people in the back!) single. Tom is also reportedly bouncing back and forth between Miami, where his two kids with Gisele Bündchen are currently based, and New York, where his 15-year-old son Jack with Bridget Moynahan lives.
But wait, there's more evidence that Tom is an amazing, five-star recruit of a dad from sources that are definitely not Tom or his camp: He flies private to watch Jack play high school football every week! He was also spotted "alone" looking for good schools in the Miami area for Benjamin and Vivian, the kids he shares with Gisele, as if someone hasn't done that work already!

While Tom is reportedly "looking forward to spending extended time" with the kids, sources also insisted he wasn't going to "rush into" his upcoming broadcasting gig with Fox Sports, where he's set to earn roughly $375 million over the next 10 years. He would, instead, take on the additional responsibility "when the time is right"...in several months. Several months! These sources are out here acting as if Tom is taking a multi-year breather to be a family man!
Alas, I digress. I truly hope Brady is as good of a dad as his hooded sources make him out to be, assisted by countless minions, I'm sure. To echo Gisele Bündchen's Instagram comment on Brady's retirement post, "Wishing you only wonderful things in this new chapter of your life"!!!