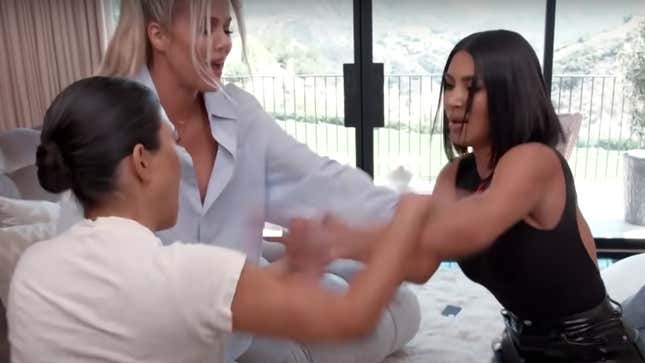 "My sister used my wedding as a business opportunity," says Kourtney Kardashian, in that robotic Californian drawl we now instantly associate with reality TV's First Family. I'm about a minute into the trailer for Season 3 of The Kardashians, which returns to Hulu on May 25. It sounds like Kourtney has fallen out with the Final Boss of poreless Kardashian sisters: Kim. "She's mad at me?" asks Kim, to which Khloe replies: "Livid," opening her eyes into a Tyra Banks-style smize to emphasize her elder sister's rage.

Britney Spears Escapes Family Drama By Going to First Bar
It's tantalizingly unclear what has happened between the pair, so much that I want to jump through the screen into Kim's intimidatingly minimalist home and find out precisely what she did wrong. (Was there a wedding-themed SKIMS discount code? Use KRAVIS for 50% off?) As I contemplate the options, Kourtney goes for the mother of soundbites: "People think it's a misunderstanding. It's not," she says, icily. "It's who she is to her core." Ouch.
As a day one fan of Keeping Up With the Kardashians, which premiered on E! in 2007 and catapulted this messy family to international stardom, I watched the trailer open-mouthed. Not because this feud between the sisters is particularly juicy—in fact, compared to some of the arguments they've had over the years, when they all had different faces, it looks pretty tame. But I was shocked to see footage of them arguing about anything at all. Since the family moved to Hulu, conflict has barely featured on The Kardashians. The sudden reappearance of inter-family beef after such an absence is the Kardashian brand recalibrating itself in front of our eyes to maintain its era-defining fame.
---
I first discovered the Kardashians as a closeted gay teenager, when my family got a bunch of extra TV channels as part of a new package, including E! Entertainment. Every day after school, I'd pretend to do homework and tune into E! News, which introduced me to a world of micro-celebrities I'd never even heard of, but whose manufactured melodramas I suddenly couldn't get enough of.
Right from the start, I was obsessed with KUWTK's iconic fight scenes, like Kim saying "it's what she deserves" after throwing her mother's Blackberry across a ski chalet, or Kourtney laughing that "Kim has the funniest crying face" as she sobs uncontrollably on the same trip. In another early episode, Kim charges toward her sisters and begins hitting Khloe with her handbag. "Don't be so fucking rude!" she shouts in Rob Kardashian's minuscule dining room, almost smashing half-eaten takeout boxes off his table as she attempts to land a K-O blow with an unsightly accessory she'd never have on her arm now. The constant cycle of conflict and resolution between the sisters was part of what made the Kardashians feel "relatable." Despite the huge gulf between their lifestyles and most of their fans—especially me, a teen who didn't even do his own laundry—it allowed savvy marketer Kris Jenner to position her brood as "just like every other family."
When Kim famously lost her $75,000 earring in the ocean in Bora Bora and had a hysterical meltdown about it, Kourtney said what everyone watching was thinking: "Kim there's people that are dying." This scene was more than a meme: Kim sobbing over an earring that cost more than the average worker's annual salary marked a turning point, where it became more difficult to portray the Kardashians as "just like us." Soon, the family got much richer and more famous. There were fights about $10 million weddings—filmed for the accompanying wedding special on E!, of course—and multi-million dollar business deals. Fans stopped tuning in purely for spats between the sisters and their ruthlessly shrewd "momager," but also to see the "real" story behind the headlines, from Kim and Kanye's courtship, to Scott Disick and Kourtney's endless relationship saga and Caitlyn Jenner's transition. Their show became a place where the family could correct the public record on various controversies—like Kim's doomed, 72-day marriage to Kris Humphries—with the confessional interviews providing an added level of intimacy.
As the Kardashian conflicts we saw on TV became less relatable, some of their fights also began to feel fake. The trouble with a reality show about a family is that families tend to repeat arguments over and over again. Fans of Bravo's Real Housewives of New Jersey, which is trapped in an endless loop of familial beef between Teresa Giudice and Joe and Melissa Gorga, know all too well that a repetitive cycle of conflict soon becomes dull to watch. In an attempt to avoid this, some of the "new" arguments on KUWTK felt staged. In 2018, Kim, Kourtney, and Khloe were mocked for "arguing" on social media and including the show's hashtag, #KUWTK, which didn't exactly scream authenticity.
The final season of the E! show was dominated by tensions over whether or not to continue making it. Filming seemed to be making some of the family, particularly Kourtney, completely miserable, while Kim and Khloe complained she wasn't pulling her weight. Their lack of enthusiasm made it even more surprising that, just a year later, the family arrived on Hulu in April 2022 with The Kardashians. 
From the outset of their Hulu era, portraying the family as relatable was still off the table. (One of their biggest pandemic controversies was Kim's not-so-"humble" 40th birthday getaway to a private island). Instead, The Kardashians is essentially a docu-series about the lives of a family of moguls with heavy emphasis on their business interests and a much more flexible attitude toward "the fourth wall," as the Kardashian-Jenners acknowledge producers and camera people while they film. On KUWTK, the family was frequently portrayed as at war with one another, but here they are more of a monolith, united by their fame and experience of reality TV stardom. The very first episode of The Kardashians was aptly titled "Never Go Against the Family," and for the first two seasons, whenever there was a conflict, it was with someone firmly outside the fold. Season 2 chronicled the family's legal battle with Blacc Chyna and Kanye West's estrangement from them following the breakdown of his marriage to Kim. Media outlets and fans on social media who criticized them—judging their red carpet looks, calling out their photoshop fails, or rebuking their insensitive comments—were the primary antagonists in their lives.
It felt like the purpose of reality TV in the Kardashian empire had shifted. "It was much less important for the show to be explosive," says MJ Corey, a writer who applies media theory and postmodern philosophy to the Kardashian family, and who is known as Kardashian Kolloquium on Instagram and TikTok. The family no longer needed to crystallize their various personas through bickering, because fans intimately knew who they were. Instead, The Kardashians was about underlining their power. The sorts of messy cat-fights we used to see were not conducive to the hyper-luxe image the family spent years elevating itself toward. Squabbles happening off-camera (or ending up on the cutting-room floor) told us the days of partnerships with Sears were firmly behind them. The show is now a place where specific Kardashian controversies can be re-told in their own voices, but where the family's collective narrative—one where elite cultural spaces like the Met Gala and Paris fashion week are the norm, not tacky fights in tiny apartments—can be tightly controlled.
The Kardashians is a show for real fans. People who, like me, have watched them since Kim was on the cover of K-9 Magazine with her dog. But as much as I love dissecting the minutiae of their lives and getting a glimpse behind the curtain, and as oddly comforting as I find their monotone voices overusing the word "literally," I don't think this show could work if they weren't already famous. The Kardashians still relies on legwork done by their first reality TV era—no matter how hard they've tried to distance themselves from it.
---
In a reality TV landscape that is still dominated by conflict, the Kardashians' noticeable move away from it seemed symbolic of their status as the genre's biggest A-Listers. It was a statement which basically said: We're so fucking famous we don't even need to fight with each other anymore to get people to tune in. Why risk someone coming off badly in a blazing row if they didn't need to? But this huge feud teased in the upcoming season reads like a concession that, actually, it's difficult to make must-watch reality TV without some tension between the sisters.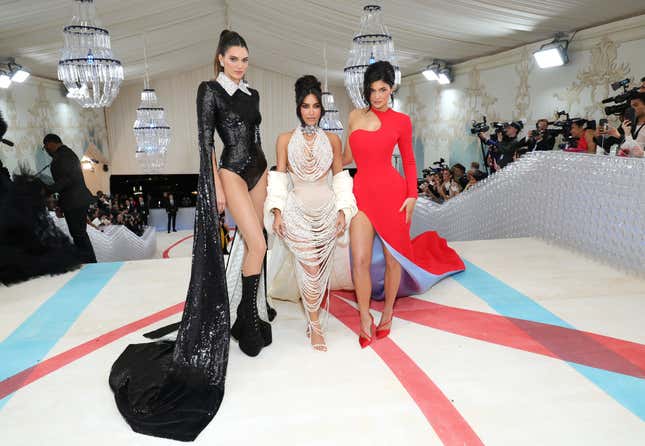 As pioneering Instagram-moguls, the Kardashians are no longer beholden to media coverage to make money. But a conflict like Kim vs. Kourtney feels specifically designed to hark back to KUWTK, where the pair used to frequently battle it out on camera, creating a feeding frenzy for tabloids. "The Kim and Kourtney drama reappears throughout their whole story," Corey says. "Clearly, it resonated with their audience in the past. So they're seeing what narratives have worked and bringing them back to reanimate them." As a tagline for Season 3 teases, "this time it's personal."
Some might say this is all getting too deep: Maybe there weren't any huge fights in the first two seasons of The Kardashians and that this one was just impossible to hide? I put it to you that the smartest part of the reality TV platform Kris Jenner built for her family is that, as executive producers, they have much more control over what makes the cut compared to the stars of, say, Bravo's Real Housewives franchise. Last season, Khloe revealed that she had filmed the entire season without sharing that she and Tristan Thompson were expecting a second child together via surrogate. When the news broke, it prompted a rather sheepish explanation of why she chose to hide it from the cameras, which was edited into the first episode so the show would make sense. If the Kardashians are able to pull that level of trickery, the fact is that we're watching them argue and trash-talk each other in Season 3 because they want us to.

The reappearance of a family conflict is a defensive move—they're retreating to a tried and tested reality TV formula, rather than committing fully to their new one. But it's a shift that convinces me that the Kardashians will probably be famous forever: They always know where the wind is blowing, and they understand that, to stay relevant, you have to have every platform and base covered. The family almost certainly thinks the tabloids are beneath them now, but they are clearly not above reaching into the past to throw them some red meat if that's what the brand needs in the present. It's a capitulation, but also a brilliant form of manipulation.
What does Brand Kardashian need now? Returning to Kim vs. Kourtney tells me they're trying to bring us closer, to bridge the gap between us and the family's growing fleet of private jets, to make the sisters feel real again even as they become more pristine. After all, sibling arguments are the most relatable part of their unrelatable lives. This is the genius the Kardashians have always traded on: a precise mix of business and personal that makes it difficult for us to ascertain, or even care, whether we're being manipulated.
Louis Staples is a culture writer and critic based in the UK. He mostly writes about TV and the internet.