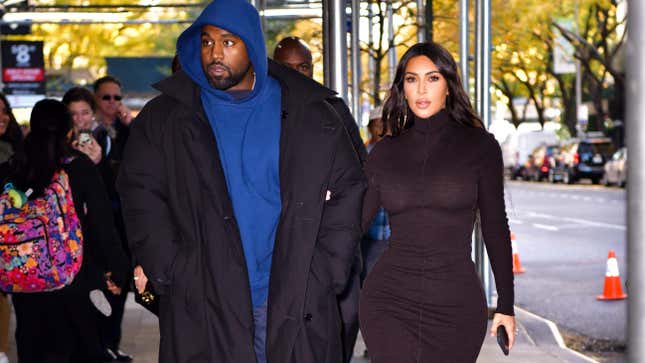 Kim Kardashian finally addressed the circumstances of her divorce from Kanye West in an appearance on Jay Shetty's On Purpose podcast this week, and it sure seems like West's fawning praise for Adolf Hitler really got to her. Fair!

Kardashian denied that her marriage was a "failure" and called it "beautiful," even, but said that it ultimately failed because she couldn't change the embattled rapper. "You can't force your beliefs and project that on someone that thinks something totally different," she told Shetty. "It's OK to realize that this life is so short, and you should go and find the people that do align with what you really believe in." Ultimately, Kardashian told the podcaster, she can't "help" someone who doesn't want to be helped.
Without directly naming West in the interview, but clearly referencing their marriage, Kardashian ceded that "different views"—like, say, loving Hitler—are, err, "natural," but she reiterated: ​​"You can't really force things upon other people. You can't expect them to be where you're at [and] at your level."
These are some of Kardashian's first public comments on West and their divorce since the couple split in 2021. It's worth noting that while West only seemed to go off the deep end with his very public Nazi worship late last year, former staffers and associates have claimed West privately expressed admiration for Hitler nearly 20 years ago and allegedly even wanted to name his album in 2018 after Hitler that year. It's not entirely clear the extent Kardashian knew about West's beliefs throughout their near decade-long relationship.
Kardashian also spoke to Shetty about the trials and tribulations of raising her four kids, taking on the bulk of parenting responsibilities, and her dating life since her relationship with ex Pete Davidson. "I think I'll always be a hopeless romantic and always want to be in love and definitely love sharing my life with someone and love creating a life with someone," Kardashian told Shetty, though she hasn't dated anyone since Davidson.
Memorably, throughout Kardashian's relationship with Davidson from late 2021 through the summer of last year, West took on a looming presence, engaging in what some domestic violence experts likened to stalking behaviors. He publicly begged Kardashian to take him back, unsubtly threatened to physically harm and even kill Davidson, and routinely shared humiliating memes over the course of weeks. As recently as last November, he baselessly accused Kardashian of having an affair with NBA player Chris Paul while they were still married.
West's harassing behaviors toward Kardashian after their marriage have been fairly concerning to watch, but it seems that even before their split, the writing was on the wall: West's troubling politics and unhinged behaviors doomed their marriage, and a reconciliation would be impossible at this point.