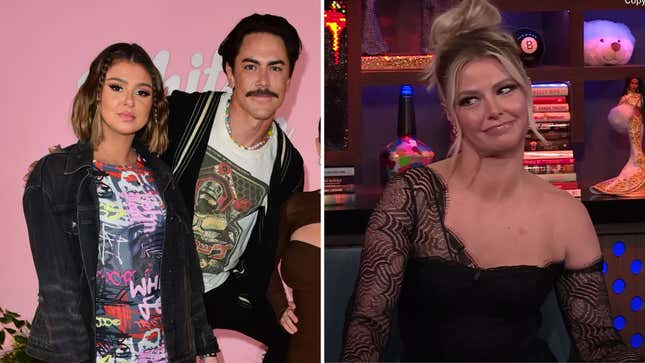 On Wednesday night, television history was made as the season finale of Bravo's Vanderpump Rules premiered to the glee of hoards of housewives, crowded bars, and yes, even restaurants. At long last, audiences were given a front-row seat to the #Scandoval that altered the Bravoverse forever.
Raquel Leviss Told Us 'I'm Like, A Good Person' Just 48 Hours Before #Scandoval
Mere hours before the episode aired, however, it was suspiciously reported that America's shittiest star-crossed lovers at the center of it all, Tom Sandoval and Rachel "Raquel" Leviss, had called it quits on their affair: "Raquel dipped out," a source told Page Six, ironically borrowing a tired phrase from Sandoval's lexicon. "Sandoval is not the one for her."

Fascinatingly, per People, they were never together in the first place.
"Tom and Raquel never put a label on their relationship to begin with," a different source told the magazine. "After their affair was exposed and the blowback they received, they said that before defining things, they needed to take time to address the issues in their own lives that drove them to this in the first place. And that's where things still are."
The source also claimed that Leviss has been staying at a "mental health treatment facility" and has yet to return to Los Angeles. Meanwhile, Sandoval has been playing rock star at sparsely populated gigs across the country.
"There's no split because they were never a couple," the source concluded. Frankly, after seeing the season finale, I'd beg to differ.
In the catastrophic event that you missed it (weirdo!), here's what we got confirmation on, Sandoval's ex-partner of nine years and Leviss' best friend, Ariana Madix, first discovered evidence of their affair on Sandoval's phone during one of his glorified karaoke performances; Sandoval and Leviss had sex in her car outside the home he shared with Madix as she mourned the death of her beloved dog; the pair planned to tell Madix of their 7-month-long dalliance before the reunion (which airs next week); and Leviss showed borderline sociopathic levels of remorse (zero) about the whole thing.

"I've never had sex like that before," Leviss giddily tells producers of their tryst at one point during the finale. Really? Everyone I know has gotten their back blown out by the frontman of a bad cover band with an earring in a sedan during at least one low point in their lives. Even still, whatever was happening in the backseat of Leviss' car was likely a snoozefest compared to Madix receiving cunnilingus from co-star Lala Kent in Sandoval's car circa 2019. People don't forget.
Meanwhile, Madix publicly addressed the affair for the first time on Andy Cohen's Watch What Happens Live after the episode. Besides looking criminally hot, she informed audiences she's hanging in there just fine, doesn't plan on forgiving Sandoval or Leviss anytime soon, and, with regard to their supposed breakup, said Leviss was sending letters à la Nicholas Sparks to Sandoval—from wherever her publicist told her to hide out—as recently as four days ago...
Something tells me this is only going to get better.
---