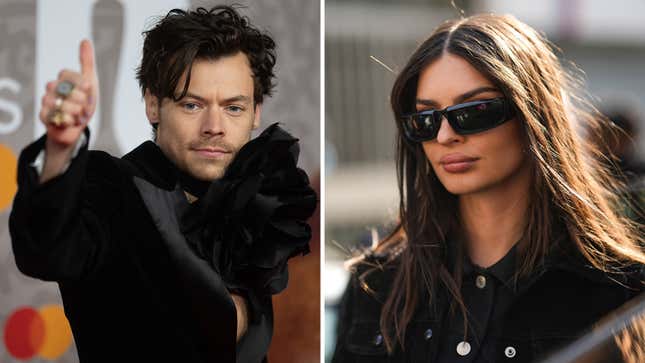 By now, you've undoubtedly heard the news: Emily Ratajkowski and Harry Styles made out in a Tokyo street, and video proof hit the internet this weekend, courtesy of the Daily Mail. It's the biggest news since Ratajkowski was said to be dating Pete Davidson, or maybe since she allegedly broke up with Pete Davidson, or maybe since she got with Eric André, or maybe since he posted a picture of them nude together, which she reportedly had "nothing to do with" as she had allegedly already broken up with him before that Valentine's Day post. Or maybe it's the biggest news since the whole Don't Worry Darling fiasco. Whatever. It's way up there.
In the wake of the earth-shattering footage, People reports that an anonymous source has come forward with some crucial context: "Harry and Emily know each other...they have been friendly for a while." Scintillating! Also, that source added that Ratajkowski is "friendly" with Styles' ex Olivia Wilde. In fact, according to the Daily Mail, whose headline I'll just go ahead and quote in full given how much I love the outlet's penchant for selective capitalization, "Emily Ratajkowski was pictured with Harry Styles' ex Olivia Wilde at Vanity Fair party just TWO WEEKS before THAT public make-out session in Japan." Mind. Blown. And E! points out that Styles revealed that he had a crush on Ratajkowski in a 2014 interview. Wow, manifest much???
And, in yet another followup story, the Daily Mail also notes that "Fans brand Harry Styles a 'terrible kisser' after THAT passionate make-out session with Emily Ratajkowski." I love that this kiss is so monumental it instantly became known (at least by and in service of the Daily Mail) as "THAT" make-out session.

Is Harry Styles a terrible kisser, as this Daily Mail story based on, like, Twitter comments, wants us to believe? It's actually very hard to determine after a (not at all complete) survey of Styles' public-kissing repertoire. He does seem to be approaching Ratajkowski like a drunk kissing fish (mouth gaping, no tongue or apparent regard for how his gaping mouth will align with hers), but the seconds of footage don't provide enough evidence to make a call one way or another. Sometimes you need a second to get in the groove! Also not illuminating is this quick peck Styles gave Wilde as they left a New York gym last year, or this grainy, shaky, poorly positioned footage of Styles kissing Taylor Swift to ring in some new year.
I will say this: Styles does tend to do the gaping guppy thing when kissing in movies. See My Policeman...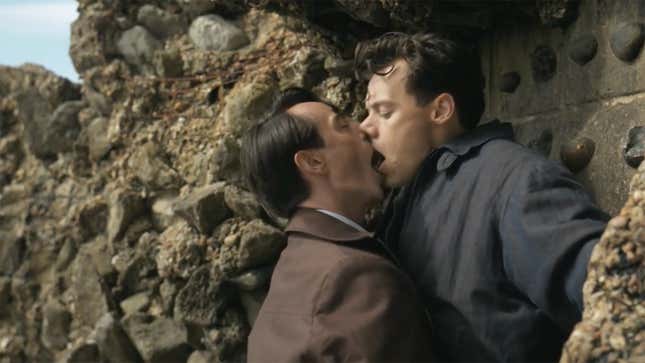 ...and Don't Worry Darling: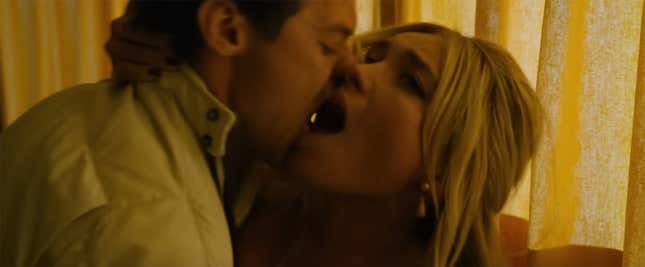 So maybe that's just Styles' style. Or maybe Ratajkowski is a bad kisser and he was just trying to make it work. Or maybe they're both bad kissers. Or maybe they're both good kissers with mismatched techniques and we're learning along with them. The truth will eventually come out.
---
And now, an important update from Grimes, who told Vanity Fair in 2022 that the name of her daughter with Elon Musk is Exa Dark Sideræl Musk, with Y as a nickname (naturally):
Thank you, Grimes...and such.
---
Get your first look at Lady Gaga as Harley Quinn on the set of the Joker sequel. Tasteful jester vibes. [Page Six]
Adam Levine is making a real show of his devotion to his wife Behati Prinsloo, post-sexting scandal. For one thing, he paid tribute to her and his family during opening night of Maroon 5's Vegas residency on Friday... [People]

...and then on Sunday, they were spotted shopping at H&M as a family (as you do). [TMZ]
Also, Prinsloo shared on Instagram the first pic of her third child with Levine (though the pic is just of the baby's feet). [E! Online]
And speaking of Vegas residencies, Adele has announced more dates for hers. But before you book your flight, she also announced a forthcoming concert film documenting the show. [Pitchfork]
This is just a good headline: "Sylvester Stallone Wants to Start Painting Again: 'It's Similar to Writing a Short Screenplay'" [People]