One of the few things that brought me reliable joy in the wake of Trump's election last year was the Daily Mail's goofy tendency to put select words in all caps in its headlines in. Sometimes this serves to really EMPHASIZE how SENSATIONAL a story is, even though you COULD ALREADY TELL since you have EYES and are READING the DAILY MAIL.

G/O Media may get a commission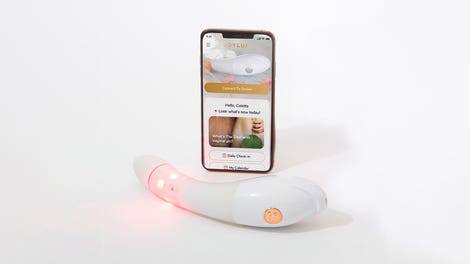 $50 Off
Joylux vFit Gold Device
I like to read these in my head in a normal voice and then hear a HIGH-PITCHED scream when reading the CAPITALIZED word.
Sometimes this serves to convey IRONY.

Sometimes this technique has resulted in headlines that have caught Jezebel's EYE and inspired us to PICK UP some of their STORIES.
Sometimes it highlights BUZZWORDS that describe the "hip" things kids are doing and eating and complaining about.

Sometimes it is used quite arbitrarily in a headline in which any number of words COULD have been capitalized (even if none SHOULD have) and ultimately makes no kind of EARTHLY sense.

Sometimes it makes all the sense in the world, especially when there are phrases present whose horrifying and/or extreme nature could not be conveyed by ALL THE CAPS IN CREATION.
But, anyway.
Yeah.

They're still doing it.

And I'm.

Still.

LAUGHING.

(To be fair, I'm also HEAVING.)

In addition, of course, to NODDING.
Naturally, these caps are sometimes used on GENITALS.

You know you've got a great Daily Mail headline when it describes something horrific while its all-caps word sits there poking at your ribs, DARING you to LAUGH.
Ahem, some of the time said GENITALS are VAGINAS.
Sometimes it's the absence of a VAGINA that is key.
Sometimes it's the SURPLUS.
Sometimes it's the rare MISSPELLED vagina.
Here's a question you should ask yourself:
My answer is: YES. If I had one, I'd HIGHLIGHT it, but I'd use ALL CAPS!
Another kind of GENITAL is a PENIS and for the sake of equal rights, it can get the caps TOO.
Interestingly, so much of the time in this informal, not at all scientific survey of the Daily Mail headlines I happened upon this year, when PENIS is in caps it's because something ABSOLUTELY HORRIBLE has happened to IT.
Part of me is cringing, but given the state of men's shittiness this year, I TOTALLY get the excitement.