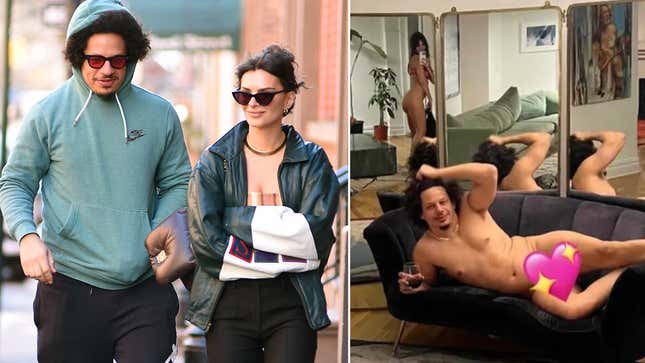 Eric Andre and Emily Ratajkowski appeared to celebrate Valentine's Day on a high note last month when Andre posted some photos to his Instagram, featuring him naked on a couch drinking wine, and Ratajkowski, also essentially naked, in the mirror. Then, within a day or so of Andre's post going live, Ratajkowski puzzled fans with a TikTok alluding to the end of a "situationship," fueling speculation that the two had split. Shortly after, she was photographed out with a DJ she'd been seeing prior to Andre.

Paulina Porizkova On The Hypocrisies Models Must Navigate
Amid all the confusion about the couple's (?) relationship status, finally, some clarity—and controversy?? On Wednesday, E! News reported that a "source" close to Ratajkowski said that she "broke up with Eric days before he posted that photo" and "she had nothing to do with the posting."
The comments from Ratajkowski's unnamed friend come days after Andre addressed the photos for the first time in an interview with Rolling Stone: "Emily popped up and took that picture. I was really in the moment, I was drinking wine, she started dying laughing, and she was like, 'I have to take a picture of this.' She took the picture, we both started cracking up," Andre told the magazine. "She was like, 'This is iconic'—she kept saying 'iconic.' We both agreed this was a beautiful image that we had to share with the world."
Hmm! I have questions—less about where Ratajkowski and Andre currently stand, and more about how Ratajkowski felt about the nude photos going live, if E!'s source's claim that "she had nothing to do with the posting" is indeed true (especially if she ended things with Andre before the post went up). E! also pointed out that Ratajkowski didn't address or re-share Andre's post to her own account. Representatives for Ratajkowski did not immediately respond to a request for comment from Jezebel.
The model and comedian haven't been seen together since February, further fueling break-up rumors. But what seems most likely, given Ratajkowski's frequent comments about her relationship status and dating life on her podcast, High-Low With EmRata, is that she and Andre had been involved in a casual fling of sorts that naturally ran its course. We've all been there—but I can't say I've ever posted nude selfies of my ex-hookup buddy and me after things cooled off.