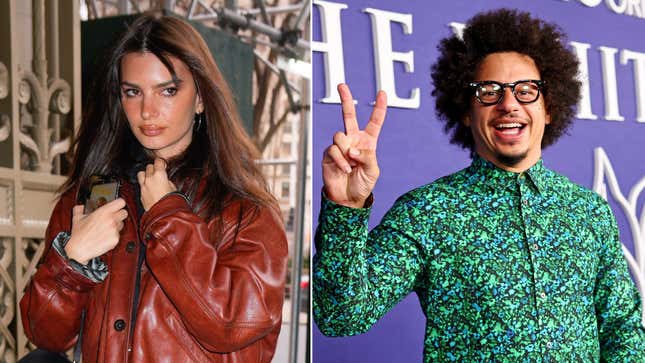 Few things hold as much intrigue and fascination in the public consciousness as a celebrity "odd" couple, from Drake and J.Lo in 2016 to Kim Kardashian and Pete Davidson last year. And now, it seems, yet another has been unceremoniously dropped into our lap: Emily Ratajkowski and Eric Andre were spotted canoodling in the Cayman Islands this week after being photographed on a number of outings together.

"It seemed like a fun friends-with-benefits situation," a source told PageSix. "They hung out at the bar, drinking cocktails and chatting with everyone. They just seemed really happy and relaxed together."
Sounds cute enough to me! But were you to scroll through commentary on the pair on Twitter dot com, you'd think the maybe-new-couple were a horror movie jump scare.
G/O Media may get a commission
25% Off
Coleman SaluSpa Inflatable Hot Tub Spa
To be unequivocally clear, I don't really find any celebrity couple particularly surprising anymore—by nature of being celebrities, and oft very rich, that's already a pretty substantial thing to have in common. But what's become tiresome about public reactions to a couple like Ratajkowski and Andre is the performative shock and gawking at yet another wildly, conventionally hot woman spending time with a less conventionally attractive man. Beyond the obvious point that plenty of women might enjoy the company of a kind, funny man over that of a chiseled, sentient can of Monster Energy drink, there's also the important reality that people can be attractive beyond mainstream (mostly white!) beauty standards. That shouldn't really be that shocking anymore!
As writer Hannah Phifer has pointed out, given the viral nature of "the girl I pulled by being silly" memes, particularly on Twitter, you'd think people would be less confused upon actually seeing this play out in real life. Being funny is a very attractive and powerful trait, in men and women and all people, so I am really not surprised by the hotness of women who date or marry men like Andre or Davidson or, say, Bill Hader.
Sure, it's fair for straight women to critique the distinctly patriarchal phenomenon of mediocre men frequently dating and mistreating women who are, by every measure, too good for them, where we rarely see the reverse. But at the end of the day, at least where physical attraction is concerned, there's no real blueprint for what being a hot man or woman or person entails. There will always be conventional, mainstream beauty standards, typically rooted in whiteness and exclusion. But we're all looking for different things, and no matter what you look like, a good sense of humor never hurts!
In any case, once the internet is ready to move on from how supposedly shocking Ratajkowski and Andre's budding romance is, I'd like to suggest a new topic: what the two were supposedly talking about whilst on their little Cayman Island beach date. PageSix reports that Ratajkowski was supposedly very audibly dishing about past romances to Andre, telling him that she was "traumatized by men" and offering up one particular "horror story" that supposedly had the comedian saying, "That guy really did that?" I simply have to know, and would greatly appreciate if internet sleuths got it together.