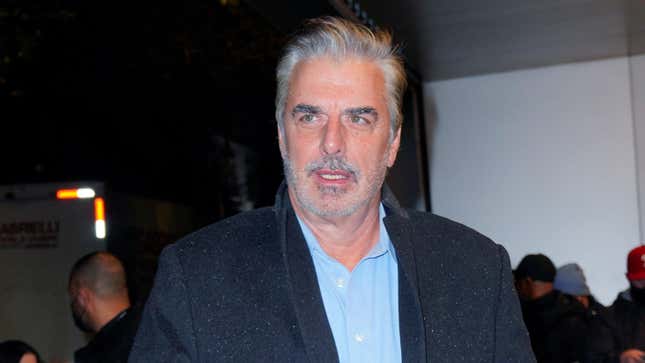 And just like that, Sex and the City star Chris Noth is reportedly looking for apologies from his And Just Like That... castmates for how they treated him after two women accused him of sexual assault in 2021. On Friday, the day after the SATC reboot hit streamers, Radar Online published a report claiming that Noth, who reprised his role as Mr. Big in the first season, felt "iced out" by Sarah Jessica Parker and the others over the disturbing allegations.
Luke Macfarlane Talks Starring In Historical Gay Rom-Com 'Bros'
In December of 2021, around the premiere of And Just Like That..., two women separately claimed to The Hollywood Reporter that Noth had assaulted them: one in 2004, the other in 2015. Later that month, another woman came forward claiming that Noth had made her feel uncomfortable while working at a nightclub he owned. Though Noth vehemently denied the allegations, the actor was edited out of the first season's finale episode, fired from the show The Equalizer, and dropped by his agency, A3 Artists. Peloton even stopped circulating an ad that featured him.

"The accusations against me made by individuals I met years, even decades, ago are categorically false," Noth said in a statement in December 2021. "These stories could've been from 30 years ago or 30 days ago—no always means no—that is a line I did not cross. The encounters were consensual."

According to the source who spoke with Radar, Noth thinks the cast, including SJP, Cynthia Nixon, and Kristin Davis, owe him an apology for distancing themselves from him in the wake of the scandal. Because he was never charged with a crime and has maintained his innocence, Noth believes the collective cold shoulder was too harsh. (Page Six also wrote about the supposed drama, and reps for Noth and Parker did not respond to the tabloid's request for comment.)

"He's not invited to their parties. He doesn't get greeting cards or happy birthday texts," the source said. "He wonders why SJP and her troupe continue to leave him out in the cold."

The answer, which is apparent to seemingly everyone but Noth, is that Parker, Nixon, and Davis have chosen to believe the women who spoke out, rather than their male colleague who wields a lot of power and privilege over young, non-celebrity women. In a joint statement after the news broke, they said: "We are deeply saddened to hear the allegations against Chris Noth…We support the women who have come forward and shared their painful experiences. We know it must be a very difficult thing to do and we commend them for it." In May 2022, Parker confirmed that she hadn't spoken to Noth since the allegations dropped.

I hate to break it to Mr. Noth, but those coveted "happy birthday texts" probably won't be coming for a long time. However, as things often go for canceled men, I'm sure he'll be experiencing a career renaissance (a Nothaissance?!) and a well-attended birthday celebration in no time.