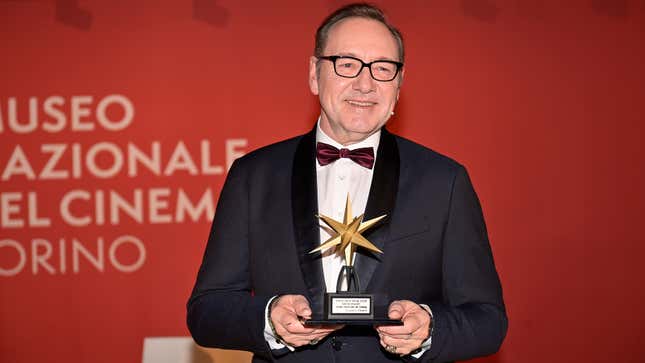 Cancel culture who? Kevin Spacey, who has faced multiple sexual misconduct allegations (from at least 15 men), was honored with a lifetime achievement award at Italy's National Cinema Museum on Monday. The New York Post says the event was specifically "advertised as the actor's first speaking engagement since his career was halted in 2017 by accusations of sexual abuse, from several men in the United States and the United Kingdom." Spacey made apparent reference to the event being a public comeback of sorts in his acceptance speech, during which he said: "I am truly blessed and grateful and humbled. And my heart is very full tonight toward the National Museum of Cinema for having had the le palle to invite me tonight." "Le palle" means "the balls."
He also advocated applauding the museum for (checks notes)...applauding him: "By presenting this award, they are making a strong defense of artistic achievement, and for that they should be applauded."
Crush of the Week: Daniel Radcliffe's Weird Al
In addition to the award, the museum has enlisted Spacey to teach a master class and attend a screening of American Beauty, the 1999 film for which he won the Best Actor Academy Award.
Before the event, Spacey addressed Italian press. Deadline reported that the outlet was denied access to Spacey, but ran this quote from the actor's rare media appearance: "I live my life every day, I go to restaurants, I meet people, drive, play tennis, I've always managed to meet generous, genuine, compassionate people. I haven't hidden away, I haven't gone to live in a cave." It would be fascinating for him to prove any of this.
Spacey will emerge once again from his not-cave in June, when his U.K. trial is set to begin. The actor faces multiple sexual assault charges and is alleged to have assaulted four different men. He has pleaded not guilty. Also, he's never been found guilty of sexual assault in court. In October, Spacey was found not guilty of battery alleged by actor Anthony Rapp.
---