Ask a Publicist is a new series in which Jezebel seeks enlightenment on issues in the world of celebrity and entertainment through the PR people who know them best.

Taylor Swift and Tom Hiddleston appear to be having fun. Too much, if you ask anyone. The public discovered this relationship in June, soon after learning that Swift and Adam "Calvin Harris" Wiles had split following nearly a year and-a-half of precisely planned dates and photo ops. (It was also right after Kim Kardashian accused Taylor, in GQ, of lying about getting advance knowledge of her mention in Kanye West's "Famous.") To the trained, PR-savvy eye, HiddleSwift can be seen as Swift's latest attempt to appear human through the act of falling in love with another human. If you're cynical enough, the relationship looks like the work of Swift's beautiful, malevolent mind and a super-engine of well-oiled PR machines versed in manipulation.
How else does one explain this couple being so easily photographed on cloyingly romantic jaunts on several sickening occasions: on the rocky beaches of quaint Rhode Island (after dancing at the Met Ball), at a Selena Gomez concert in Nashville, and again on the beach, when nobody likes beaches that much? One theory suggests they're camping it up for the sake of a music video shoot, or that Swift is at work on her own Kanye-like performative commentary about the beast of fame.
This is the nature of the celebrity "set up," with the presumed exchange being free press and social capital. Reality TV stars are known to use fake relationships to juice up their on-camera storylines—Kenya Moore was accused of hiring a fake boyfriend on The Real Housewives of Atlanta. But unlike Kenya or The Hills' Spencer Pratt and Heidi—so low-brow on the celeb scale that no one blinks about them courting paparazzi—there's an expectation that someone on Swift's level can't appear too desirous of the fame she so clearly craves.
Photos of Hiddleston wearing an "I Heart T.S." t-shirt (which either means he loves Taylor Swift or that he Stans for British essayist T.S. Eliot) don't help much to prove otherwise. If this is some elaborate performance, then, why?
G/O Media may get a commission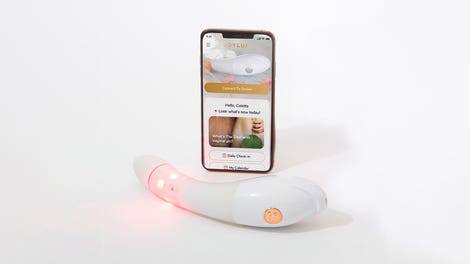 $50 Off
Joylux vFit Gold Device
To cut through the speculation and illuminate this severely important issue, I asked a few publicists for their expert take on to what degree Swift is gaming us and how it plays into the celeb set-up phenomenon. "When you are a celebrity everything is set up, so to speak," says one PR agent. Another theorizes that maybe Swift "is trying to make a social commentary on the public's obsession with her and men."
Publicist #1 (Anonymous, Music PR):
I think Taylor and Tom are indeed having a romance, but that he agreed to be part of her publicity machine. They are fucking to fuck with the media but also having a grand ole time. What human male goes into paparazzi waters with an "I love TS" shirt on his back? There is no money in the world that will have me believe that everything they have done is not for PR and childish game, but my instinct says they are romancing (her, for her to assert ability to get what she wants; him to have America know his name). I am sure they are laughing every step of the way.

It's so hard to imagine going through all that trouble for fame. But it is dark inside the world of celebrity, and being A list and staying A list must be a competitive sport for some. A lot of people claim publicists set up these "fauxmances," but gosh how do you really engineer that and what type of person allows that. I do believe the stories about Tom Cruise hunting for wives and all that, but he's a special case in that he's already level 1 million with XENU. I wish I was privy. I would say that the ideas come from the celebs and they tell their publicists to make it happen.

I am more than sure some short-lived Us Magazine romances were purely for press, and I think they happen with the aid of PR but also the needs of the celebrity. There are obvious things one can watch for: Is the man rumored to be gay? Does the relationship coincide with the promotion of new series or movie? Is the celebrity becoming a has been and worried? Are they only photo'ed together in the most obvious public places?
Publicist #2 (Jonathan Hay, Celebrity publicist):
I don't think their relationship is fixed. I think clearly the relationship benefits Tom Hiddleston more as far as business goes as it has immediately raised his profile and value. Nobody was really talking about Tom before any of this, so this has been extraordinary for his brand. Now when he shows up for a movie premiere it's a big deal because he could have Taylor Swift on his arm. Before this, he didn't have a lot of excitement at his movie premieres because he wasn't a box office draw like that. Now that's all changed. I'm sure film studios and movie executives are lining up to get him. It's now as simple as one social media post from Taylor Swift about a movie he's in and it will go viral. Everything is high profile with him now and because of Taylor, everything he does is relevant.

When you are a celebrity everything is setup so to speak. It's not like normal civilians who meet somewhere in public or even meet on social media and start dating. Everything takes arranging because each individual celebrity has their own infrastructure and busy schedule. Each celebrity has their own team, so each date in public is going to be strategically detailed. Not to mention, security has to be in place and every place they go has to be prepared for them, etc.

So there is a lot of planning and scheduling with each and every single movement in their life. So when you see these pictures of couples that seem staged in public, well, they are. And they have to be. Look for the fake celebrity relationship rumors first. Usually that's PR testing the waters to see how it's going to affect each of the brands. There is major business and money at stake.
Lastly, here's a great, intricate explanation from a publicist who mentions all the specific projects Hiddleston has lined up and how Swift could be using her PR relationship prowess—and the public's obsession with it—as a mutually beneficial booster for less powerful men.
Publicist #3 (Anonymous, L.A.-based Film PR):
Yes, seems fixed from a PR standpoint for a few different reasons. First and foremost is that most of the photos are from the same photo agency making it seem like Taylor and/or Tom or their camp are tipping photogs off or hiring them. Two, September will probably be a big month for both of them. She is due for an album release or at least a single around September when Tom and/or The Night Manager will likely be nominated for an Emmy (noms announced next Thurs July 14 & awards show is Sept 18).

She'll also need to release an album by Sept 30 to be considered for any Grammy nominations in 2017. This is a big time for Tom because I Saw the Light was far from critically acclaimed and tanked — critics said that not even his performance could help the movie. This nomination would be his first major US awards show nomination (we're not counting MTV or Teen Choice – talking SAG, Oscars, Emmys, etc). The show premiered on April 19 and the FYC event with the Television Academy was April 7.

You can see on the Television Academy website that the event wasn't sold out. I don't think there was ever a ton of interest in it with US audiences and they probably had a low number of RSVPS b/c let's be honest, even though it stars Tom this is not The Walking Dead or Better Call Saul, etc. This timing makes sense and lines up with what I mention down below w/ more dates surrounding Met Gala. Around Emmy time, we should also start to see a teaser trailer or still photos for Kong: Skull Island, in which Tom's the lead. End of July will be Comic-Con in San Diego and we can probably expect him to make an appearance or photos to be released from the set of Thor: Ragnarok.

I also think she is trying to make a social commentary on the public's obsession with her and men. Not sure where she's going with it because she certainly doesn't need the publicity or to justify any of her actions to her fans — they love her and stand by her. I also wonder if she is really trying keep her image in control in light of Kanye's release of FAMOUS?FAMOUS was released April 1, her and Tom were photographed dancing at the Met Gala on May 2 and they were then photographed around June 15 in Rhode Island. Not too fast timing —just the right amount to create a publicity strategy and start executing it.

I definitely think the relationship is fake. I'm still a bit baffled as to how this helps her other than it being for an album. I do think Tom stands to attract a new and younger fan base with the "relationship" and it has no doubt brought more attention to what projects he is currently working on.

Also, Tom Hiddleston would NEVER wear a I ❤️ T.S. Shirt 🙄

I'm sure there are more fake relationships that the public is unaware of. I don't think they are always the easiest to spot, nor do I think we really know to look for fake relationships. I think the public wants to believe in the "true love" story. This one is just so obvious! Jordin Sparks & Sage the Gemini post-Jason DeRulo. Selena Gomez and Zedd. I'm not even totally sold on Cheryl Cole and Liam Payne. I think personal reps, agents, managers, etc are the ones who orchestrate these set-ups as they are typically mutually beneficial for upcoming projects or recently released projects or avoiding on-coming negative publicity. Interesting about the WME IMG merger. Who is repped by whom? IMG reps Taylor and WME reps Tom.

The telltale signs would be timing and abruptness (around an upcoming project or release, post break-up), Over-obviousness (t-shirt and tattoo on Tom, professing love, "acts" of desperation), lots of tabloid photos that are not completely candid (like T Swift and Tom on the rocks in Rhode Island, strolling with his mom) and photos taken at close range w/o long-focus lens.
What do you think, tweeps? I already know because you're optimistic if you believe this to be considerably more than an annoyingly transparent power play.
---
Image via AP