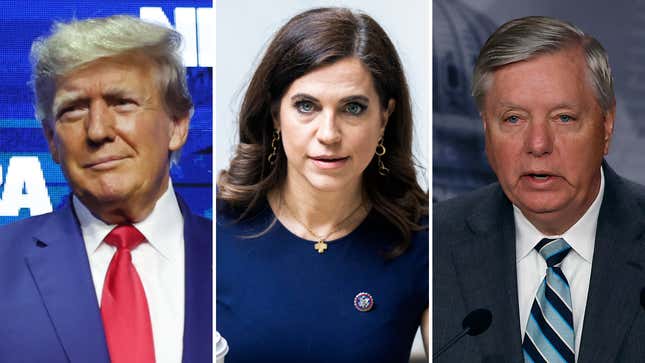 Republicans know they have a huge abortion problem on their hands following their successful, decades-long campaign to overturn Roe v. Wade. Angry voters overwhelmingly support abortion rights, but the GOP has hitched its wagon to activist groups who won't settle for anything less than a nationwide ban. What are politicians to do in that situation, especially as reporters keep asking them about it?
Missouri Wants to Trap Its Own Citizens
A CNN story published Sunday is a good example of their approach: Just hide the ball. While a Republican-controlled House passed a 20-week abortion ban in 2012, 2015, and 2017, multiple Republicans told CNN they now think abortion is now a states' rights issue and don't want to pursue a federal ban at all.
But those are their on-the-record comments. "Behind the scenes," CNN reporters say, "Republicans acknowledge that the abortion ruling, Dobbs v. Jackson Women's Health Organization, hurt the GOP in the midterm elections and they're worried about a similar backlash in 2024 if they embrace a federal ban now that they're in power."
The CNN piece is the fifth story published in the last two weeks about GOP "infighting" over the prospect a national abortion ban, following similar reporting from the New York Times, the Associated Press, the Washington Post, and Politico. Who will support South Carolina Sen. Lindsey Graham's 15-week ban? Why is Donald Trump saying "states' rights?" Does Rep. Nancy Mace (R-S.C.) still have a place in her party while calling them out for being wrong on abortion?
Jezebel has certainly covered several of these stories, as we do love to see Republicans in (apparent) disarray—there's something very satisfying in witnessing them realize they fucked around and found out. But taking a step back, it looks as if Republicans aren't actually sparring over whether or not to ban abortion—they're just pretending to be conflicted to spin a narrative of the party being moderate and principled ahead of a big election.
Activists are sounding the alarm on this: Jenny Lawson, vice president of organizing at Planned Parenthood Action Fund, told Jezebel in a statement that conservative politicians are trying to walk back their extreme stances on abortion in these recent stories not "because their true agenda changed, but because the American people have caught on and don't agree with their ultimate goal of banning abortion nationwide."
"We're not fooled: They're not split on abortion rights, nor do the slight differences in rhetoric equate to actual policy differences," Lawson said. "They are simply scared for their jobs—as they should be."
The numbers are clear: The pro-choice position won in six ballot measures after the fall of Roe, including in red states like Kansas, Kentucky, and Montana. Republicans lost a seat in the Senate and a huge state Supreme Court race in Wisconsin. That's why they're doing everything they can right to make it harder for voters to pass abortion ballot measures.
Regardless of any juicy reporting about infighting, you can be sure that Republicans will enact some kind of nationwide abortion ban when given the opportunity, whether that's at 15 weeks, six weeks, or fertilization. One influential group, Americans United for Life, is pushing the idea of a total ban accomplished via executive order—yes, with the stroke of a pen. A well-placed lawsuit could result in the federal courts doing it for them.
Many of the lawmakers' recent actions have given the game away: They're already trying to restrict abortion access in blue states. CNN quotes three Republican senators as saying that abortion should be state issue, but two of them—Sens. Josh Hawley of Missouri and Ted Cruz of Texas—signed an amicus brief in totally bogus abortion pill lawsuit asking the Supreme Court to let a bunch of old restrictions take effect. (The judge in the case, Matthew Kacsmaryk, donated to both politicians, and they later voted to confirm him.) Another signatory? Sen. John Barrasso (R-Wyo.), who professed "states' rights" to Politico. A total of 147 members of Congress signed on to that brief, and they're represented by Americans United for Life, the group behind the executive order proposal for fetal personhood.
When it comes to anti-abortion politicians, it's important look at what they do, not just what they say. And that's our mission going forward.