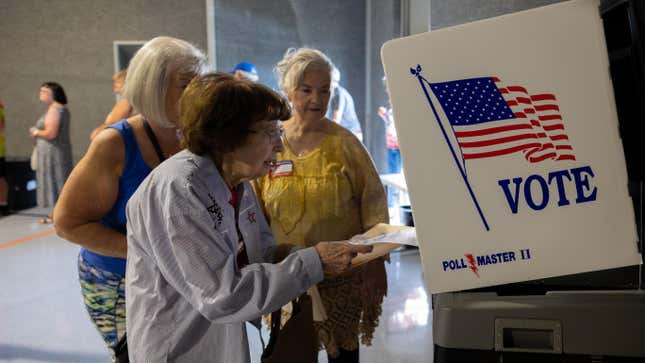 Most Americans think abortion should be legal, including more than half of people who live in states Donald Trump won in 2020, according to a massive new survey of people in all 50 states and Washington, D.C., proving once again that abortion is overwhelmingly popular and that Republicans cannot read the room.
Republicans Pull Out All the Stupid Stops While Debating Abortion
PRRI (also known as the nonprofit, nonpartisan Public Religion Research Institute) surveyed nearly 23,000 Americans between March and December 2022, which covered the period before and after the Supreme Court's opinion in Dobbs, which overturned Roe v. Wade in June 2022. According to the new survey, PRRI found that 64 percent of Americans think abortion should be legal in "most or all cases." (That's up from 55 percent in 2010, when PRRI first began tracking it.) How many people believe abortion should be legal in all cases? Thirty percent!
This tracks with voting patterns on the ground: Last year, six states put abortion on the ballot and, even in cases where the ballot initiative was confusingly worded, abortion rights won every time. In Kansas, voters overwhelmingly chose to keep abortion legal despite having to vote "no" to support abortion rights. In Montana, a confusingly worded "born-alive" ballot initiative presented voters with the false belief that infants survive abortion; that was defeated too. Michigan, Vermont and California voted to enshrine the abortion rights in the states' constitutions. Ohio will be the next state to vote on the matter.

Voters want to protect their right to bodily autonomy, which the PRRI poll found as well. Even among Republicans, support for abortion rights is substantial: 36 percent think abortion should be legal in most or all cases, while the percentage of Republicans who think abortion should be totally illegal has declined from 21 percent to only 14 percent.
When the Washington Post compared the polling results to the results of the 2020 presidential election, abortion was popular even in so-called Trump country. "Only in seven of the 25 states Trump won in 2020 does less than half of the population support abortion access; in two others, exactly half do," columnist Philip Bump wrote.

After losing many more races than expected during the November midterms, anti-abortion groups had a hilariously wrong takeaway. Instead of admitting their position is wildly unpopular, they blamed Republican politicians who lost for not emphasizing their opposition to abortion enough.