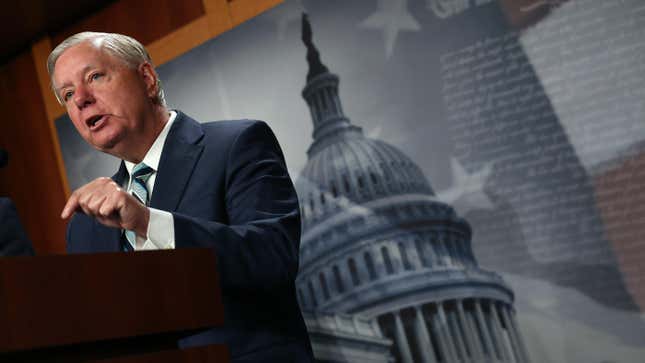 Sen. Lindsay Graham just couldn't keep his cool while talking about his anti-abortion views on the Sunday talk show circuit. In an appearance on State of the Union on CNN, Graham shouted at host Dana Bash after he spit out a bunch of lies and she fact-checked him on one tiny, important Roe v. Wade detail.
Republicans Pull Out All the Stupid Stops While Debating Abortion
Bash tees off the conversation with the fairly boring but centrist question of if abortion is a state or federal issue. Graham—who has been trying to introduce a national abortion ban into Congress since 2015—runs through standard anti-abortion talking points, including saying that abortion at 15 weeks is "dismemberment" (it's not) and that "50 to 53 European nations limit abortion at 15 weeks or less" (there are only 44 countries generally and 41 have legalized abortion).
"What the democratic party proposes on abortion is barbaric, abortion up to the moment of birth, taxpayer-funded, is barbaric, I welcome this debate," Graham said after Bash tried to steer him back to her original question about abortion being a state or federal issue. "I think the Republican party will be in good standing to oppose late-term abortion like most of the civilized world."
Bash then quickly corrected Graham that "Roe went up to viability," and Graham effectively lost it.
"No, no, no, your media, you [in the] media keep covering for these guys," Graham shouted back at the anchor. "They introduced legislation that allowed abortion on demand with taxpayer funds to the moment of birth, that's the law they want to pass and nobody in your business will talk about it."
Roe, which was overturned 10 months ago, remains overturned—meaning Republicans already won on abortion. Yet, Graham is the latest example of Republicans who are unable to take the win. Discerning Jezebel readers know that Roe was never the final target—that would be ending legal abortion entirely. But nearly five decades of advocating for the end of Roe have left many in the anti-abortion movement ill-prepared for their next move.
Earlier this month, when Trump-appointed Judge Matthew Kacsmaryk issued a ruling invalidating the Food and Drug Administration's 2000 approval of an abortion pill, mifepristone, Republicans didn't know how to respond.
Do they cheer a ruling further restricting abortion, even if it would throw the pharmaceutical industry into chaos? There was immediate fracturing with at least one Republican congresswoman saying FDA should just ignore the ruling.
Abortion is massively popular, and a winning electoral issue. Every court case concerning banning medication abortion seems to be making people even more in support of bodily autonomy. In a poll published on Monday morning, NPR/Marist found that nearly two-thirds of surveyed adults opposed laws that ban medication abortion. (The poll was conducted before Friday's decision by the Supreme Court to keep an abortion pill on the market while litigation continues.)

Graham's blubbering slots directly into the party's confusion. Republicans are obviously still anti-abortion. However, like the proverbial dog that finally caught the car, they don't know what the hell they should do next.