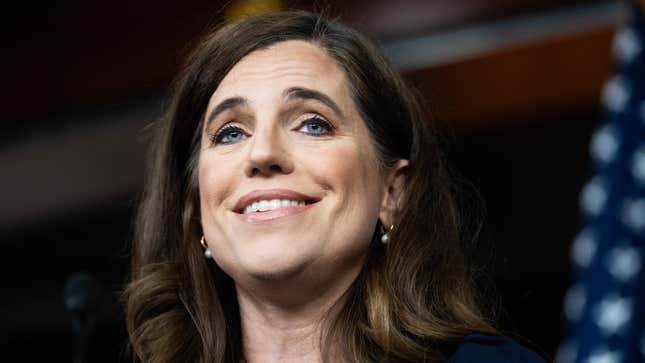 In a Sunday interview with CNN's Dana Bash, Rep. Nancy Mace (R-S.C.)—the notably horny South Carolina Republican who's been trying to build a brand around holding a "moderate" pro-life stance—spoke candidly about the political uncertainty Republicans face for their aggressive attacks on abortion rights. "I'm pro-life. I have a fantastic pro-life voting record, but I also understand that we cannot be assholes to women," Mace told Bash, adding that Republicans, especially in moderate districts, are "walking the plank" on the issue.

Uterus Weekly: 15-Week Abortion Bans
"As a Republican woman today in 2023, this is a very lonely place to be. Because I feel like that I'm the only woman on our side of the aisle advocating for things that all women should care about," Mace said. "No woman wants to go to the doctor and make the decision that she's going to have an abortion. Nobody wants that. And what are we doing to ensure that she doesn't have to make that decision? What are we doing about the foster care system? What are we doing about child care? We're doing none of those things."
Sure, Mace has butted heads with her GOP colleagues over abortion rights, insisting that Republicans take a more ~reasonable~ approach to abortion by advocating for wider access to birth control. And, earlier this year, Mace spoke out against a conservative Texas judge's ruling against FDA approval of abortion pills, and last year criticized the lack of rape exceptions in state abortion bans citing her own experience as a survivor. She's also clashed with Rep. Marjorie Taylor Greene (R-Ga.) over abortion as far back as 2021.
But her support for ostensibly gentler abortion laws, with ineffective exceptions and slightly longer windows of time to get the procedure, doesn't make her any less of an "asshole" than the rest of her caucus. She's trying to have her "pro-life" cake and eat it too as a self-stylized feminist Republican woman and as a survivor who supposedly cares about other survivors. But that's simply impossible when all abortion bans innately amount to gender-based violence, and child rape victims living in states with bans don't even know how to access their rape exceptions.
Because there is no "moderate" stance in support of abortion bans—with or without rape exceptions, and with or without revamping the foster care and adoption systems, which may be a substitute for parenting, but certainly aren't a substitute for pregnancy and childbirth. Any law that forces someone to be pregnant for even a day longer than they want to be is dangerous and extreme.
In any case, top Republicans across the country don't seem particularly interested in Mace's advice. Just last week, Alabama's attorney general called the act of helping an Alabama resident access abortion in a different state a "criminal conspiracy." As we speak, Texas activists are working to make it illegal to drive someone on roads within the state if the end destination is an abortion clinic. It's not as if posturing as a moderate "pro-life" lawmaker is even vaguely helpful, but it's certainly chilling how comfortable top Republicans are very publicly being assholes.