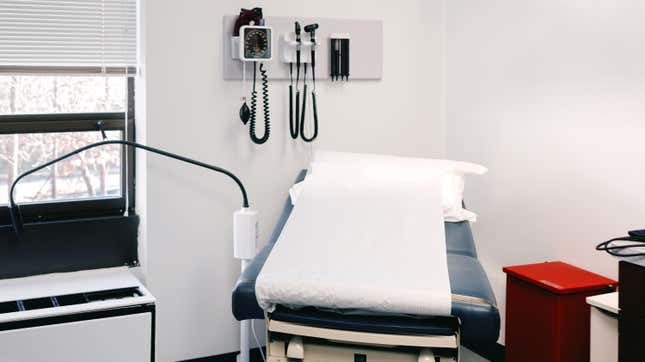 A 13-year-old girl in Mississippi gave birth this month after she was raped last fall, and just weeks before she will start 7th grade. When the pregnancy was first discovered at an emergency room earlier this year, her mother told Time magazine that a nurse reportedly asked the child, "What have you been doing?"
Uterus Weekly: 15-Week Abortion Bans
Ashley (a pseudonym to protect her privacy), is Black, and her story illustrates the horrific effects of abortion bans in already disadvantaged areas. She was raped last fall while filming a TikTok video in the yard of her family's house in Clarksdale, while her relatives were inside. Her mother, who goes by the pseudonym Regina said, according to Time, that Ashley said "a man came down the street and into the front yard, grabbed Ashley, and covered her mouth...He pulled her around to the side of the house and raped her" and that the "assailant was an adult, and that she didn't know him. Nobody else witnessed the assault."
After the rape happened, Ashley didn't tell anyone for weeks. Her mother hadn't yet told her how pregnancy happens, so she wasn't even aware it was possible. Ashley turned inward; she didn't want to celebrate her 13th birthday that November.
But by January, Ashley was throwing up so much that she needed to go to the emergency room. A blood test revealed the now-13-year-old was pregnant—and according to Regina, a nurse turned accusatory toward the child, asking, "What have you been doing?"
The obstetrician working that day, Erica Balthrop, couldn't get Ashley, who was 10 or 11 weeks pregnant, to talk. "It was surreal for her," Balthrop told Time, after getting permission from Regina for the interview. "She just had no clue."
At the next appointment, Regina broached the subject of abortion. But it was early 2023: The world of abortion access is the South was already at a humanitarian-level crisis. The closest abortion provider was in Chicago. "I don't have the funds for all this," Regina told Time, referencing the need to take off work, pay for gas, food and lodging—as well as the abortion.
Ashley and Regina's position is horrifically not unique: There are nearly 2 million people of reproductive age who live in a county without abortion or maternity care access, according to a new analysis from ABC News and Boston's Children's Hospital. If you zoom out a bit, to include counties that only have "low access" to maternal healthcare, these healthcare deserts now include 3.7 million women.
Obviously, Ashely didn't get the abortion; that's why you're reading this story. She joined the growing number of people who are simply unable to make true choices of bodily autonomy. Having a child—even as a teen—should be a choice. Instead, Ashley was raped and forced to become a mother at age 13.

Ashley's story is the inverse of a 10-year-old Ohio girl who was raped by Gerson Fuentes in summer 2022. That girl was able to travel across state lines to Indiana to receive a medication abortion before she reached seven weeks. (Of course, she was forced to travel because Roe v. Wade was overturned, and her home state of Ohio implemented a six-week abortion ban shortly thereafter.) After the girl's pregnancy from the rape was discovered, child protective services got involved. A child abuse doctor reached out to Dr. Caitlin Bernard, the abortion provider in Indiana. They made travel plans, and the girl received her abortion. Ashley was not so lucky.
She also experienced the all-too-common "adultification" bias, which treats Black children as more grown up than they are and, in this case, presumes immense responsibility when the nurse asked, "What have you been doing?"
Even though Regina filed a police report, and the family gave the name of a possible suspect, little has been done for Ashley's case. Police only collected a DNA sample from the newborn child after Time made multiple inquiries. Time reported that the Clarksdale Police Chief Vincent Ramirez essentially shrugged when asked about the delay. "It's a pretty high priority, as a juvenile," he told the magazine. "Sometimes they slip a little bit because we've got a lot going on, but then they come back to it."
This seems like a pretty big slip—especially because Ashley's life has already been irrevocably changed.