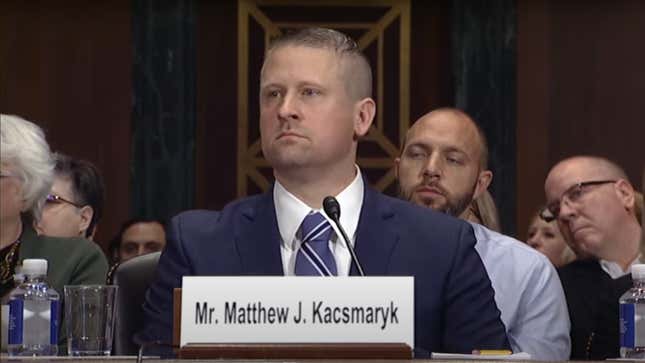 On Friday evening—which happens to be Good Friday for Christians (this was likely deliberate)—Trump-appointed federal judge and devout Texas Christian Matthew Kacsmaryk issued a ruling that effectively bans the main abortion pill, mifepristone, nationwide. The ruling revokes the Food and Drug Administration's approval of the drug, which has been used safely since the year 2000, effective one week from today, unless the federal government can successfully challenge it by then.
Self Managed Abortions Explained
Kacsmaryk, a rabidly anti-abortion and anti-LGBTQ lawyer before Donald Trump nominated him to a lifetime seat on the federal bench in 2019, attempted to get around the criticism of withdrawing approval of a drug that was okayed over 20 years ago by blaming the FDA. He wrote that the agency "stonewalled judicial review" of mifepristone by ignoring anti-abortion activists' petitions contesting the drug's approval. "Had FDA responded to Plaintiffs' petitions within the 360 total days allotted, this case would have been in federal court decades earlier. Instead, FDA postponed and procrastinated for nearly 6,000 days," he wrote.

Within hours of Kacsmaryk's decision, Biden's Department of Justice filed a notice of appeal. Once the case is in appeals, the DOJ can take it to the Supreme Court.
Meanwhile, Kacsmaryk has certainly fulfilled his purpose. Anti-abortion activists strategically filed the federal lawsuit in a Texas district where Kacsmaryk is the only judge in order to ensure this outcome. Alliance Defending Freedom, a Christian legal group that wrote the state law the Supreme Court used to overturn Roe v. Wade, baselessly argue along with the plaintiffs in their suit that the FDA was wrong to approve mifepristone decades ago and wrong to make updates to that approval, like approving its use through 10 weeks of pregnancy, up from seven. Notably, they filed the lawsuit against the government after the six-year statute of limitations, and after Roe fell.
Kacsmaryk wasn't the only federal judge to issue an opinion on Friday night. Thomas Rice, a judge for U.S. District Court, Eastern District of Washington, wrote that the FDA is barred from "altering the status quo and rights as it relates to the availability of Mifepristone" in states involved in the lawsuit. The other states involved are, in alphabetical order, Arizona, Colorado, Connecticut, Delaware, District of Columbia, Hawaii, Illinois, Maine, Maryland, Michigan, Minnesota, Nevada, New Mexico, Oregon, Pennsylvania, Rhode Island, and Vermont.
Rice repeatedly characterized a nationwide injunction—like the one Kacsmaryk issued—as "inappropriate." Despite Kacsmaryk's seven-day holding period, the conflicting rulings mean this lawsuit will likely make its way to the Supreme Court quicker than anyone expected.
Kacsmaryk made his personal feelings about abortion quite clear throughout the ruling, describing a medication abortion as the "killing of an unborn human." In fact, mifepristone, the first of two drugs in the FDA-approved abortion regimen, halts a pregnancy from progressing, while the second drug, misoprostol, causes uterine contractions to expel the tissue. Misoprostol, an ulcer medication, can also be used on its own to end a pregnancy, though it may cause more side effects (more on that in a second). Medication abortions accounted for 54 percent of all abortions done in medical settings in 2020, and mifepristone is also used by people experiencing incomplete miscarriages.
Evan Masingill, CEO of generic mifepristone manufacturer GenBioPro and not a party in the case, said the company is reviewing the ruling, but "the bottom line is, we are confident in the legality of mifepristone's approval."
While Friday's ruling is devastating, it does not mean the end of medication abortion in blue states, as eight multistate providers including Planned Parenthood have said they're prepared to offer misoprostol-only abortions if necessary—and others are expected to do the same. The two-drug combo will also remain available when shipped internationally from Aid Access and from community support networks like Red State Access. Anyone self-managing their abortions outside the U.S. medical system may face legal risks, so if they are going to buy pills, they should first read this guide to minimizing your risks, including your digital footprint.
Misoprostol-only abortions are safe and effective, but slightly less effective than medication abortions done with both drugs. Jamila Perritt, an OB/GYN and the president and CEO of Physicians for Reproductive Health, told reporters on a recent press call that none of the legal issues around the abortion pill have to do with its safety. "It's never been about the medicine. This is about ending abortion," Perritt said. "It would be one thing if they were saying 'oh, we need to ban this medicine because it's not safe, all these terrible things are happening.' That's not what's happening."
Ashley Brink, Wichita clinic manager at Trust Women Kansas, said on a press call she expected patients to be very confused as people called the clinic before Roe felt unsure if they could get a legal abortion. "I can already assume that whatever ruling comes down, there will be people who believe that medication abortion in general has been banned in this country and may not be able to access it. That may be the truth or may be a half truth," Brink said.
The point of this latest ruling is to make it so difficult to get an abortion that people simply give up. Some clinics will only be able to continue with procedural abortions, which will impact the number of people they can serve at a time when clinics are slammed with patients from banned states and it's taking longer and longer to get an appointment.
But there are questions about whether anything would change immediately. A trio of law professors noted in Slate that, under the 1938 Federal Food, Drug, and Cosmetic Act, only the FDA can withdraw approval for a drug. (It's an argument a group of food and drug law scholars made in an amicus brief supporting the FDA.) The FDA could also choose not to enforce Kacsmaryk's ruling, and some providers could even choose to keep prescribing mifepristone. Before the ruling, three abortion providers—Whole Woman's Health, Trust Women, and Hey Jane—said they'd continue with the usual regimen unless the FDA tells them otherwise. (After the ruling, Whole Woman's Health said it would continue with FDA-approved regimens for the next week.)

In general, though, the very idea that a judge can decree which drugs are legal or not could also undermine the entire federal system for approving medications, potentially imperiling everything from HIV drugs, birth control, and covid vaccines, as STAT News reported. One health law expert told CNBC that it could set a "cataclysmic" precedent.

Sarah Lipton-Lubet, president of advocacy group Take Back the Court, said the dueling rulings are a natural and confusing conclusion of the Supreme Court overturning Roe. "While it will take time to sort out the rulings and next steps, three things are as true tonight as they were yesterday: Matthew Kascmaryk is a political hack who has no business in a federal courtroom, let alone as a judge. Mifepristone remains safe, legal, effective, and available. And decisions about drug safety should be made by medical experts, not by politicians masquerading as jurists," Lipton-Lubet said in a statement to Jezebel.
This is not a surprising outcome, said Karen Middleton, president of the Cobalt Abortion Fund in Colorado. "Republicans promised to ban abortion nationwide. It's time we believe them."