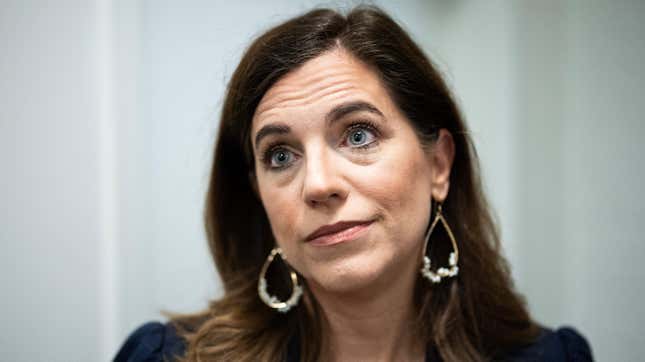 Rep. Nancy Mace (R-S.C.) can totally read the room—which is why she talked about how she could've been at home fucking her fiancé to a room full of evangelicals at Sen. Tim Scott's (R-S.C.) prayer breakfast on Wednesday.
In fact, Mace was almost late to her fellow South Carolinian's "standing room-only" event because of the unfulfilled sexual request from **checks notes** Patrick. "I woke up this morning at 7—I was getting picked up at 7:45—Patrick, my fiancé, tried to pull me by my waist over in bed, and I was like, 'No baby we don't have time for that this morning. I gotta get to the prayer breakfast, and I gotta be on time.' A little TMI," Mace said.
Mace, one of the sane-ish Republican voices on abortion, was supporting the unhinged Republican presidential candidate's event in Washington, D.C.
The congresswoman added that Patrick "can wait. I'll see him later tonight. But I was here early today for you, Tim. I think everybody was early for you today."
Well thank god Patrick's dick will get stroked EVENTUALLY. Has no one thought about Patrick in all of this?? He has to wait an entire workday now! I'm just a very tired and annoyed queer lady, but if I was Patrick I would be beyond annoyed. Mace chose a Tim Scott prayer breakfast over sex with me, Patrick?? I can't think of anything more horrifyingly offensive.
Honestly, Mace's off-the-cuff tangent is giving "I was supposed to write something for these opening remarks and honestly my comms department fucked up and forgot to remind me." If these remarks were prewritten, I'll...I have nothing to offer you, because while I'm not usually one to clutch pearls over sex anecdotes, I truly could not conceive of a world where a comms department approved saying this at an Evangelical prayer breakfast.
And one last thing: Please stop making me think about straight people having sex. I'm tired of the straights movement and all of its propaganda getting thrown in my face. It's gross.