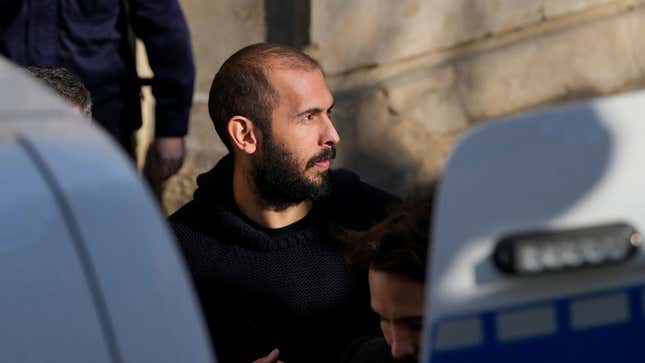 Self-described misogynist Andrew Tate has somehow managed to consistently make headlines even from within his jail cell in Romania over the past few months, and it looks like we'll be following his European legal saga for at least a bit longer: After three detainment extensions, Tate had his first bail hearing in Romanian court on Tuesday, but a judge denied his request to be released to house arrest. He will remain behind bars until at least the end of this month.
"Unfortunately, the Romanian judicial system denied Andrew Tate's request for bail today," a spokesperson for Tate told the Daily Mail. "We are disappointed in this outcome as we had high hopes to see Andrew reunited with his family." Boohoo.

There is another bail hearing on Wednesday for his brother and alleged accomplice, Tristan Tate. Luana Radu and Georgiana Naghel, two Romanian women who were identified as the brothers' accomplices and were initially held in custody alongside the Tates, will also have their own bail hearings later this week. I don't want to be the bearer of bad news, but things probably aren't looking up for them either. (Up until this point, none of the four have been formally charged with anything.)
Since being detained for human trafficking and rape allegations in late December, the Tate brothers' detention has been extended three times. Prior to Tuesday, the most recent decision extended their stays in police custody until at least the end of March, so it's unclear what changed to allow for the bail hearings this week.
In the past few weeks, the tenor of media coverage of Andrew Tate has become a bit more sympathetic, despite him remaining scum. Earlier this month, rumors that the disgraced kickboxer had lung cancer surfaced after leaked medical records showed a black spot on his lung, but Tate then denied being ill. "I do not have cancer. My lungs contain precisely 0 smoking damage. In fact, I have an 8L lung capacity and the vital signs of an Olympic athlete," Tate said in a statement last week. Even while delivering good news, this guy still manages to sound like a douche. I thought dudes only bragged about their dick sizes, but I guess lung capacity is also something that helps you gain macho points?
Then Buzzfeed News published a report last week based on interviews with Tate's family members that sought to shed light on his family dynamics and early life. The interview revealed that Tate's father was also plenty misogynist, which might explain where things went sideways for Tate. And while I'm sympathetic to the fact that we are all victims of the patriarchy no matter our gender, I have a hard time stomaching attempts to humanize someone who has repeatedly bragged about his hatred and exploitation of women.
Tate's legal team plans to appeal Tuesday's decision within 48 hours so, uh, stay tuned, I guess.