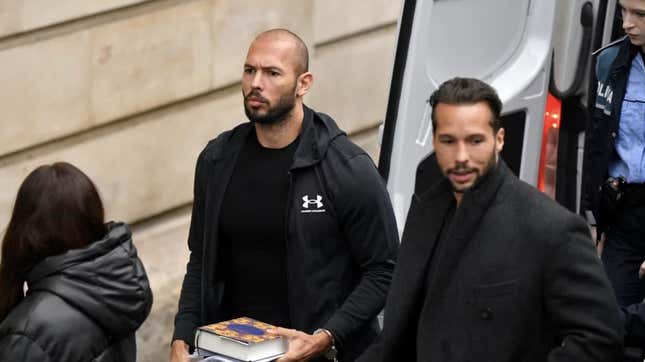 As Andrew Tate and his brother, Tristan, remain jailed in Romania, more information about the brothers' murky and allegedly violent past keeps coming to light. In addition to the human trafficking charges, corroborated by the brothers' own descriptions of their business model, Vice reported on a string of disturbing rape allegations against Tate by women who say their reports were mishandled by London police. And now, per a Thursday Buzzfeed News report, it seems the apple didn't fall particularly far from the tree.
The report casts the spotlight on Tate's family members and early life, which he and Tristan spent growing up in Indiana in the 1990s before their parents split and their English mother took Tate and Tristan to a small town in England. Their father, Emory Tate Jr., was a Black military veteran and a successful, influential chess player who traveled the country competing. But Buzzfeed resurfaced a string of unsettling Facebook posts from Emory prior to his death in 2015.
Per Buzzfeed, in one 2011 post, Emory railed against the "eternal problem" that the alpha male faces: "protecting his flock of women." He wrote, appearing to reference his infidelity and violence against women: "The times I struck a woman (in passion) I never left a mark. No trace. Hyper control.... super-control of the human animal. They love me still." In a post shortly before his death, Emory decried the dozens of rape allegations against comedian Bill Cosby, claiming the women who accused him were only after money and were addicted to drugs. "One pill and poke from Bill, and the whole story is of a damsel in distress. How is this, then, rape, when all of Hollywood was high as a kite?"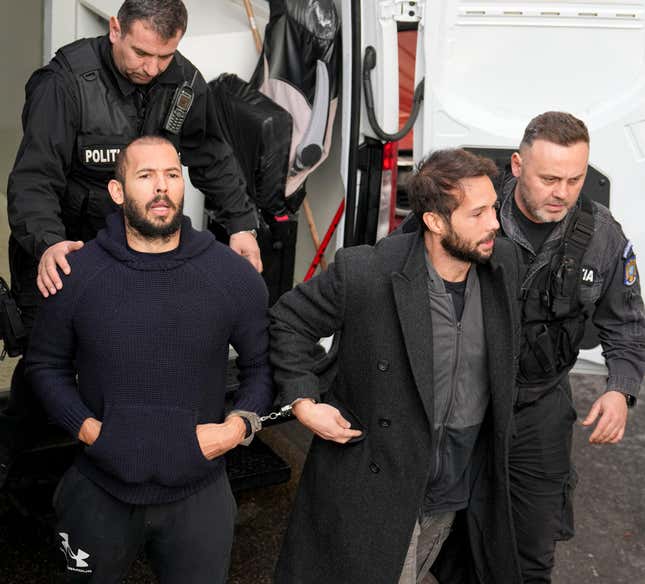 Tate has previously spoken about his father in his social media posts, interviews, and vlogs. In one interview on a podcast last summer, Tate said, "My mother was very much subservient to my father, which was a good thing. They used to have arguments, and I think I learned a lot of my lessons, I guess on male–female dynamics, to a degree from my childhood." In another TikTok posted last year, shortly before he was permanently banned from the platform, Tate referenced his father's infidelity, which contributed to the end of his parents' marriage: "Boys, when you're older, you'll understand. Now I'm older, I understand. He fucked a girl. So?" Cheating, he explained, was merely an invention of "Western society" at the behest of "the powerful females."
Tate, who competed in kickboxing competitions prior to the tremendous—and deeply concerning—success of his and his brother's adult webcam business, also credited his father with teaching him and Tristan how to fight. "Dad trained me," he told Chess Life magazine in 2016, "and commanded me to fight without a defense, hands down, as he did." Years earlier, Tate recalled in a Facebook post that his father had once given him and Tristan pillows and told them to "kick the shit out of" them.
Emory died of a heart attack in October 2015 at a chess tournament in Milpitas, California. Tate and Tristan, abroad in Europe at the time, briefly returned to the U.S. to attend their father's funeral service in Alabama. Tate later praised him in Chess Life magazine: "He was afraid of nothing, even death. He was an alpha male in all respects."
I'm not exactly shocked by any of the familial revelations divulged in BuzzFeed's report, though it's chilling to consider the relative ordinariness of Tate's upbringing in the context of who he grew up to be. Tate's aunt, an Arizona-based attorney, and one of Tate's former classmates growing up in Luton, England, both praised Tate's character in the report; his aunt revealed that she's reached out to the U.S. Embassy in Romania, President Biden, and the State Department to intervene on behalf of the Tate brothers, as they begin their third month in jail.
The BuzzFeed report is rife with sympathetic interviews—with former classmates and family friends, all of which seem determined to humanize a man accused of horrific violence and whose entire platform has been devoted to spreading misogyny. In highlighting Tate's relationship with his father, the report also reads as a warning: Tate's idolatry of his violent father is a reminder of the impressionable nature of boys and young men—all the more unnerving given Tate's legions of young, devoted followers.