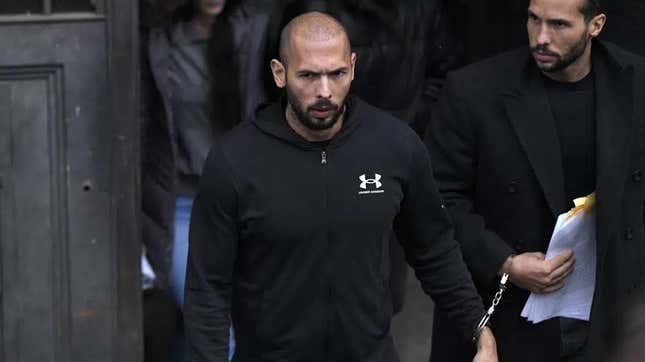 CONTENT WARNING: This story contains graphic descriptions of sexual violence.
A third woman in two weeks has come forward to accuse Andrew Tate, the misogynist influencer currently in jail facing human trafficking charges in Romania, of having raped her. Vice World News obtained audio and text messages provided by the woman, whom they called "Amelia," in which Tate appears to say "I love raping you," among other violent, disturbing things.

Amelia told Vice that she first met Tate in 2009, but their relationship became romantic in 2013. One night, after she explicitly expressed that she didn't want to have sex, she says Tate lay on the bed in silence, prompting her to ask what was wrong. "This guy literally laid there and went: 'I'm just debating whether I should rape you or not,'" Amelia recounted. From there, she says that Tate's demeanor changed entirely. She claims he began strangling her, forced her to take off her pants, and raped her. He continued to strangle her throughout, Amelia claims. "He's like, 'Fucking say it bitch. You're not fucking saying my name, say my fucking name otherwise I'll kill you.'"
"I've never been strangled before. I don't know if he's going to stop. And I was so scared," she told Vice. "Whenever you think about being in that situation, you think you're going to fight back… But I'm telling you, you don't. Because if you fight back, what else is he going to do to you? He's a 6'3 champion kickboxer, for God's sake."
After that evening, Amelia says she continued to see Tate for a few months, because she was in denial about the reality of what had happened and didn't want to feel like a victim."If I go and see him again, and I want it this time, then I'm not being degraded, then it's not the R word [rape],'" she explained. "So that's what I did."
Amelia broke off the relationship only after Tate asked her to go away with him for a weekend, prompting her to "[wake] up and realize if I spent a whole weekend with him, I might end up in hospital." Still, Tate continued to contact her. At different points, he'd texted her, "Am I a bad person? Because the more you didn't like it, the more I enjoyed it. I fucking loved how much you hated it. It turned me on. Why am I like that?" Another text said, "And I love raping you. And watching u let me while still debating if its a good idea or not." And another reads: "When ur under my control, I do whatever I please."
In one disturbing voice note, Tate tells Amelia, "Are you seriously so offended I strangled you a little bit? You didn't fucking pass out. Chill the fuck out, Jesus Christ, I thought you were cool, what's wrong with you?"
Six months after the alleged rape, Amelia went to police and says she was ultimately discouraged from moving forward with the report. She struggled to speak about the trauma she'd experienced with police and felt belittled when an officer asked her friend if she had a learning disability. In 2015, police contacted her and asked for her approval to investigate her case in conjunction with two other allegations against Tate, involving women who worked for him—one who said Tate beat her and other co-workers working for his web cam business on several occasions, and another who said Tate had raped her.
As Vice previously reported, police held the case for four years before referring it to the Crown Prosecution Service (CPS)—the U.K. agency that determines whether there is a realistic chance of conviction—which ultimately declined to prosecute Tate.
Tate has achieved global fame for his manosphere blogging about how to be an alpha male and control women. In some of his videos, he talks about how to beat women, while his website details his business model of manipulating women into working for you. He's experienced such disturbingly intense influence that teachers and educators have been forced to address the hate and disinformation Tate has spread in their schools and communities.
Amelia and the two other women expressed frustration with the danger that so many women have been placed in as Tate has skirted accountability for his alleged acts of violence—some of which he's all but admitted to in his social media posts. In 2016, as a contestant on Big Brother only briefly, Tate was removed from the show as police confirmed he was under investigation for charges of sexual assault. At the time, a video had also surfaced of Tate beating his then-girlfriend with a belt.

Tate is currently in jail in Romania and is under investigation for human trafficking. Romanian prosecutors say he's suspected of being part of a criminal group that lures women via false promises, then sexually exploits them, subjecting them to "physical violence and mental coercion through intimidation, constant surveillance, control and invoking alleged debts" and forcing them to make pornographic videos. Contrary to his fans' conspiracy theories that he's already been released, a judge this week declined Tate and his brother's appeal to be released from jail early, and he'll remain behind bars through the month.