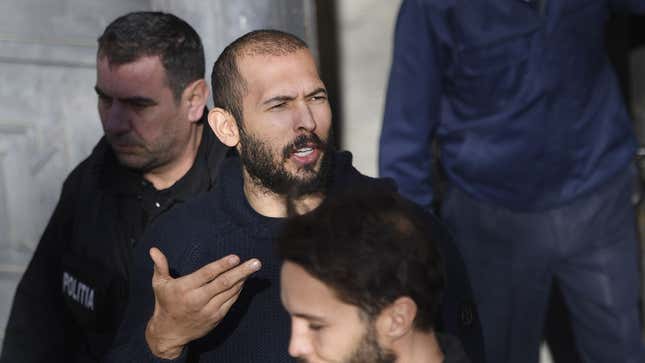 New court documents obtained by Reuters reveal more details of Andrew Tate and his brother, Tristan's, alleged human trafficking scheme in Romania, including WhatsApp messages, rape allegations, and their involvement with OnlyFans.

The documents include text message exchanges from February 2022 with a Moldovan woman with whom Tate allegedly established a romantic relationship—a tactic known within human trafficking circles as "Romeo pimping." He promised her a new life in exchange for her loyalty. The woman later alleged that he raped her twice in Romania after she moved there in March.
"You must understand that once you are mine, you will be mine forever," Tate wrote to her Feb. 4, 2022 via WhatsApp. A few days later, while trying to get her to relocate to Romania so that she could work for him via OnlyFans, he reassured her: "Nothing bad will happen. But you have to be on my side."
The documents further allege that the Tate brothers deceived and intimidated six women (including the Moldovan women) in order to "transform them into slaves." Of the six women, two have publicly spoken with local media to defend Tate's innocence, according to Reuters: Last month, a woman named Beatrice told Romanian TV station Antena3, "​​You cannot list me as a victim if I say I am not one."
Prosecutors further allege that Tate has made tens and thousands of euros off his victims' Only Fans accounts, which he allegedly controls. OnlyFans spokesperson Sue Beeby told Reuters that the site has been monitoring Tate's actions since early 2022 and that he has never had a "creator account" or received payments for any content from the site. Whether or not this lets Tate off the hook is up for debate; he could easily be using his victims' accounts to post content while pocketing the cash himself.
Tate's long-standing pattern of exploiting women has increasingly come to light since his arrest on Dec. 29 for human trafficking and rape charges. In January, three women came forward accusing Tate of rape. In audio and text obtained by Vice World News, Tate is allegedly heard telling one of the women, "I love raping you."
Tate, 36, is a self-described misogynist and Internet personality who gained significant notoriety (and wealth) through his online "coaching course" called Hustler's University—which has since been rebranded to The Real World—where he claims teaches young men how to earn money fast (while also spewing misogynistic hate). Teachers all over the world have expressed alarm at the hold that Tate's messaging has on their students, with boys as young as second grade parroting his sexist ideologies back to their female peers.
Both brothers remain in detention in Bucharest, in conditions that Tate has publicly complained about.