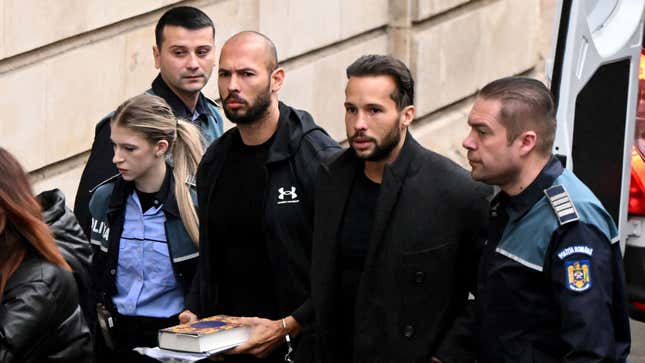 A Romanian court on Tuesday extended Andrew Tate's detention for an additional 30 days, according to the BBC. The self-described misogynist and his brother, Tristan Tate, were taken in by Romanian police on December 29 on charges of rape, human trafficking, and forming an organized crime group.
In late January, Romanian judges granted an extension to their detainment after they deemed Tate and his brother to have exercised "permanent psychological control over the victims," the BBC reported. They were set to be released on February 27, but now, the two men will remain in prison until at least the end of March.
Two Romanian women, Georgiana Naghel and Luana Radu, have also been in custody since December for assisting in the brothers' crimes. Radu is a former police officer in Bucharest and Naghel is a model. Naghel is suspected to have been dating Andrew Tate and helping him coerce "at least six women to create social media porn content under house arrest," according to The Daily Mail. While the brothers will remain in custody, the two women will be released and put under house arrest for the duration of the most recent extension.

Tate, or someone close to him, has somehow continued to tweet from his account, and he has been pretty vocal about the state of his imprisonment—including the abundance of cockroaches, lice, and bed bugs in his cell—though his accounts have garnered little pity. In addition to maintaining his innocence, Tate claims that he is "being held in custody to make me mentally ill" so that he'll eventually admit to his crimes, The Daily Mail reported.
Tate's lawyers had felt confident about the men's imminent release, given that no new evidence has been brought forth recently by prosecutors, but the Romanian court was apparently not convinced. Whether or not this will remain the case, I'm glad authorities seem to be acknowledging the seriousness of these men's crimes.