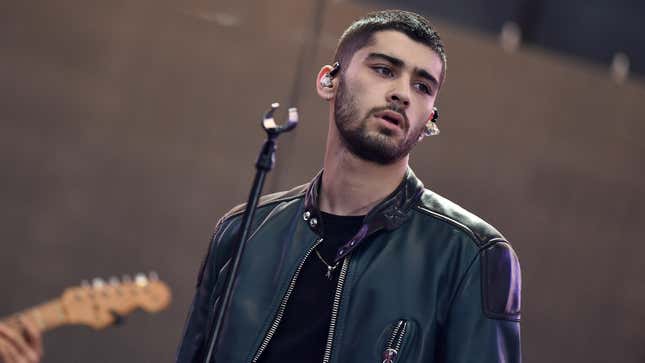 Wednesday's episode of Alex Cooper's Call Her Daddy podcast is a big one for any former fans of One Direction. It marks Zayn Malik's first interview in six years, and includes his perspective on everything from his childhood and teen fame, to his very public break-ups with both his former band and his former partner, Gigi Hadid. He and Hadid share daughter Khai, who's almost 3, and split at the end of 2021 amid reports about his contentious relationship with Hadid's mother, Yolanda Hadid, which allegedly became physically violent at one point.
Early on in the interview, Malik calls Hadid his "ex" and said she inspired his move to Pennsylvania; the two spent a lot of time together there raising Khai before their separation. His life as a single father now involves raising not just three cats and three dogs, but numerous farm animals (including a pet chicken who died in his arms after he took her to the vet and was turned away, he told Cooper).
Malik's conversation with Cooper comes nearly two years after he pleaded no contest in response to four counts of criminal harassment for an incident involving him and Yolanda. TMZ reported at the time that Malik allegedly struck Yolanda during an altercation over Khai, and in the heat of their argument, Malik allegedly called Yolanda "a fucking Dutch slut" and at some point shouted the phrase, "the fucking sperm that came out of my fucking cock." Gigi Hadid wasn't present during the fight, but TMZ reported that at one point, Malik called her and told her to "strap on some fucking balls and defend your partner against your fucking mother in my house."
Cooper brings up the incident toward the end of their conversation, referencing Malik's statement at the time in which he "adamantly" denied hitting Yolanda. In the statement, he declined to "give any further details" at the time, for the sake of his daughter, and expressed "hope that Yolanda will reconsider her false allegations and move towards healing these family issues in private."
"I don't tend to get involved when people say things online, whether it's got something to do with me or whether it doesn't," he told Cooper. "Because for me, my most valuable thing that I have in life is time, and that takes so much time in a toxic environment to explain yourself to people and justify things. ... I knew what the situation was, I knew what happened and the people involved knew, too. And that's all I really cared about."
Malik explained that he avoided speaking on the incident beyond his statement asking for privacy because he "didn't want to bring attention to anything," and wished to be mindful of what he said, as his daughter will someday grow up and read about what happened. "I believe that that was the best way, like an amicable, respectful way. And that's all that needs to be said," he added.
When Cooper said that "no family is perfect," Malik seemed to criticize Yolanda for handling their issues in a public manner: "If something happens in the family, I'd rather keep that between family—you don't need a whole audience of people with opinions because it's hard enough to manage between two."
Malik has joint custody of Khai, which Cooper brought up, saying it implied that if what "we've all read online...was true," then that might not be the custody arrangement. (To be clear, we can't really infer anything about what did or didn't happen between Malik and Yolanda Hadid based on court custody rulings, which have a history of ignoring abuse allegations.)
Neither Malik nor Yolanda have spoken about the incident in almost two years, and Malik, at least, seems determined to keep the details private.
Things between him and Gigi Hadid are going well enough, he said. "Co-parenting is good," he told Cooper, and he and Hadid "have a good relationship for Khai," who splits her time between them. Malik said fatherhood has changed his life, offering a "mental rehab in the best way" amid years of mental health struggles, which the singer has been fairly open about.
Malik and Cooper also rehashed his dramatic exit from One Direction in 2015, and he alluded to the internal "politics" of the band, which helped inform his decision. The band members had become "sick of each other," he admitted. But he conceded to Cooper that he left the band when he did for "selfish" reasons, because he felt their eventual separation was imminent and he wanted to "jump the gun" and be the first to go solo. "There were great experiences. I had great times with them. But we'd just run our course," he said.
Malik's interview with Cooper comes as the singer is set to release new music this summer after a fairly long hiatus. The last time we heard from him, varying tabloids had romantically linked him with Selena Gomez, which doesn't seem to have gone anywhere. Throughout it all, Malik's notoriously loyal fans—who once hid out in trash cans to "jump out" and approach him, he tells Cooper—have predictably stood by him. And I'm sure they'll have a very normal reaction to his first interview in six years.