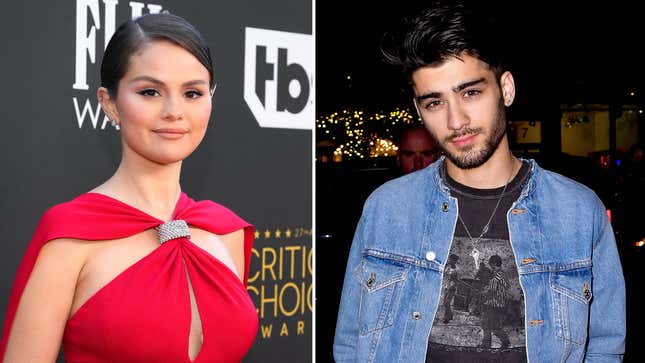 From a viral, unverified Friday TikTok to an "eyewitness" source speaking to ET, the streets are saying that Selena Gomez and Zayn Malik are dating, roughly 13 years after Malik first attempted to flirt with Gomez via tweet.

No, this isn't a 2010 fan fic—it's real life, baby! The pair were apparently spotted kissing and holding hands at a dinner date in New York City last week, making them the latest unexpected celebrity pairing until Harry Styles and Emily Ratajkowski seized the title on Saturday.
Nonetheless, for all that's going on in the ever-evolving world of celebrity (and it's a lot!), I'm here today to talk about Gomez and Malik and why the budding romance makes everything messier for Gomez, right as she very publicly attempted to bury her feud with Hailey Bieber on Friday. Join me as I transform into Charlie Kelly delivering a conspiratorial rant in that one It's Always Sunny in Philadelphia meme, eyes wide, standing in front of a white board displaying all the tangled evidence.
While Gomez has most famously been feuding with Bieber, for obvious reasons that rhyme with Rustin Rieber, Gomez has also shared a reportedly fraught relationship with Biebers' array of model-influencer friends. Over the last decade or so, she's wound up in shady situations with Kendall Jenner and Justine Skye that supposedly stemmed from Bieber hooking up with Jenner at different points in the 2010s and Skye appearing to criticize Gomez's Rare Beauty brand, respectively. Then, of course, there's Gomez's fraught history with Bella Hadid, as the two both dated The Weeknd. Hadid not-so-subtly made her thoughts about Gomez dating her ex pretty clear at the time, and for the last several years has either shut down or outright ignored public compliments Gomez has paid her. She deleted an Instagram post immediately after Gomez commented on it in 2019, and last month, didn't even acknowledge Gomez's comment that she wished she were "as pretty as" Hadid.
All of this now takes us to the present, as Gomez appears to date Gigi Hadid's most famous long-term ex and baby daddy. Earlier this month, a viral TikTok theory resurfaced a 2014 New Year's Eve trip that Jenner and Gigi took with Gomez in Dubai, and reports at the time that alleged they'd done so to help Hailey and Justin spend New Year's Eve together. Even as Gigi and Gomez have been photographed together since 2015, fans have wondered about Gomez's references to toxic female friendships from around the time of the Dubai trip and whether Gigi and Kendall were the toxic friendships in question.
Malik and Gigi's relationship, you may recall, ended in turmoil in the fall of 2021. While Gigi has only spoken positively of Malik as a father, the pair split on a pretty chilling note shortly after Malik allegedly assaulted Gigi's mother, Yolanda Hadid, for entering his home. At the time, he pleaded no contest to four counts of harassment toward Yolanda, Gigi, and a security guard, paid a fine, and completed anger management classes. Not great!
There are still no photos of Gomez and Malik together, and I'm not sure how ready I am to believe this is the real deal until I see it with my own eyes. But either way, despite emphatically stating in recent TikToks and IG stories that she doesn't want drama, Gomez is dating another ex of another (possible) ex-friend in Hailey Bieber's orbit. More mess just kind of seems inevitable at this point.